Ontario Alignment By Overall Expectation
CCSS Alignment By Grade
CCSS Alignment By Standard
Don't Get Burned By Doritos Roulette Spicy Hot Chips!
Today, I was finally able to record some footage involving the mysterious Doritos Roulette chips when I was working with some colleagues from Tecumseh Vista Academy. If you haven't heard of the new Doritos flavour, here is the commercial:
Special thanks to: Joey Demarse, Dan Frezell, Diane Gardin, Craig Guthrie, Jeff Hillman, Dee Kruc, and Justin Levack for volunteering to eat a bag of chips with me while I recorded the footage.
Act 1: The Teaser
Show your students this video:
What questions come to mind?
Act 2: Give Some Details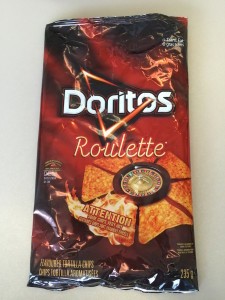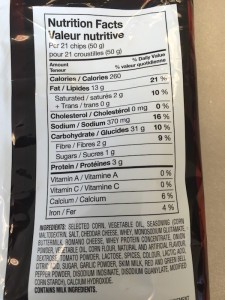 Some questions students might have:
How many doritos in a bag?
Is the ratio of "hot to not" chips really 1:6 or 1 out of 7?
How many hot chips should you expect in a bag?
Act 3: The Answer
Student Exemplars
Some student exemplars from my first go with this task:
Other Teacher Resources and Student Exemplars:
Let me know in the comments what you did with this task and how it turned out!

New to Using 3 Act Math Tasks?
Download the 2-page printable 3 Act Math Tip Sheet to ensure that you have the best start to your journey using 3 Act math Tasks to spark curiosity and fuel sense making in your math classroom!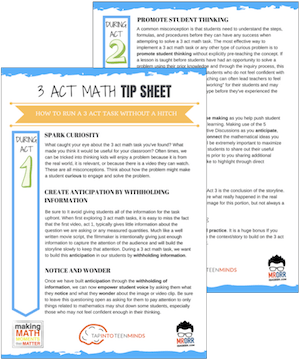 Share With Your Learning Community: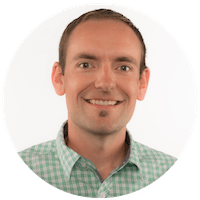 I'm Kyle Pearce and I am a former high school math teacher. I'm now the K-12 Mathematics Consultant with the Greater Essex County District School Board, where I uncover creative ways to spark curiosity and fuel sense making in mathematics. Read more.
Access Other Real World Math Tasks
---
Search More 3 Act Math Tasks
Grade 1
[
1.B2.1
,
1.B2.2
,
1.B2.3
,
1.B2.4
,
1B1.2
,
Number Sense and Numeration - NS1
,
Number Sense and Numeration - NS3
]
Grade 2
[
2.B1.1
,
2.B1.3
,
2.B2.1
,
2.B2.2
,
2.B2.3
,
2.B2.4
,
Measurement - M1
,
Number Sense and Numeration - NS1
,
Number Sense and Numeration - NS2
,
Number Sense and Numeration - NS3
]
Grade 3
[
3.B1.5
,
3.B2.1
,
3.B2.3
,
3.B2.7
,
Measurement - M1
,
Number Sense and Numeration - NS1
,
Number Sense and Numeration - NS3
]
Grade 4
[
4.B2.1
,
4.B2.4
,
4.E2.5
,
4.E2.6
,
Measurement - M1
,
Number Sense and Numeration - NS1
,
Number Sense and Numeration - NS3
,
Patterning and Algebra - PA2
]
Grade 5
[
5.B1.7
,
5.B2.9
,
5.D1.3
,
5.D1.6
,
5.E2.6
,
5.F1.2
,
5.F1.5
,
Measurement - M1
,
Measurement - M2
,
Number Sense and Numeration - NS1
,
Number Sense and Numeration - NS3
,
Patterning and Algebra - PA2
]
Grade 6
[
6.B2.12
,
6.B2.9
,
Data Management and Probability - DP3
,
Measurement - M1
,
Measurement - M2
,
Number Sense and Numeration - NS1
,
Number Sense and Numeration - NS2
,
Number Sense and Numeration - NS3
,
Patterning and Algebra - PA1
,
Patterning and Algebra - PA2
]
Grade 7
[
7.B1.3
,
7.B1.4
,
7.B1.7
,
7.B2.2
,
7.B2.3
,
7.C1.1
,
7.C1.2
,
7.C1.3
,
7.C1.4
,
7.D1.6
,
Data Management and Probability - DP3
,
Geometry and Spatial Sense - GS1
,
Measurement - M1
,
Measurement - M2
,
Number Sense and Numeration - NS1
,
Number Sense and Numeration - NS2
,
Number Sense and Numeration - NS3
,
Patterning and Algebra - PA1
,
Patterning and Algebra - PA2
]
Grade 8
[
8.B1.4
,
8.B2.5
,
8.C1.1
,
8.C1.2
,
8.C1.3
,
8.C1.4
,
Data Management and Probability - DP1
,
Data Management and Probability - DP3
,
Geometry and Spatial Sense - GS2
,
Measurement - M1
,
Measurement - M2
,
Number Sense and Numeration - NS1
,
Number Sense and Numeration - NS2
,
Number Sense and Numeration - NS3
,
Patterning and Algebra - PA1
,
Patterning and Algebra - PA2
]
Grade 9
[
9.B3.5
,
9.C3.1
,
9.C3.2
,
9.C3.3
]
Kindergarten
[
k.15.1
,
k.15.10
,
k.15.2
]
MAP4C
[
Mathematical Models - MM1
,
Mathematical Models - MM2
,
Mathematical Models - MM3
]
MAT1L
MAT2L
MBF3C
[
Data Management - DM1
,
Data Management - DM2
,
Geometry and Trigonometry - GT1
,
Geometry and Trigonometry - GT2
,
Mathematical Models - MM1
,
Mathematical Models - MM2
,
Mathematical Models - MM3
]
MCF3M
[
Exponential Functions - EF2
,
Quadratic Functions - QF1
,
Quadratic Functions - QF2
,
Quadratic Functions - QF3
,
Trigonometric Functions - TF1
,
Trigonometric Functions - TF3
]
MCR3U
[
Characteristics of Functions - CF1
,
Characteristics of Functions - CF2
,
Exponential Functions - EF2
,
Exponential Functions - EF3
,
Trigonometric Functions - TF3
]
MCT4C
[
Exponential Functions - EF1
,
Trigonometric Functions - TF3
]
MCV4U
[
Derivatives and Their Applications - DA2
]
MDM4U
[
Counting and Probability - CP2
,
Organization of Data For Analysis - DA2
,
Probability Distributions - PD1
,
Statistical Analysis - SA1
,
Statistical Analysis - SA2
]
MEL4E
MFM1P
[
Linear Relations - LR1
,
Linear Relations - LR2
,
Linear Relations - LR3
,
Linear Relations - LR4
,
Measurement and Geometry - MG1
,
Measurement and Geometry - MG2
,
Measurement and Geometry - MG3
,
Number Sense and Algebra - NA1
,
Number Sense and Algebra - NA2
]
MFM2P
[
Measurement and Trigonometry - MT1
,
Measurement and Trigonometry - MT2
,
Measurement and Trigonometry - MT3
,
Modelling Linear Relations - LR1
,
Modelling Linear Relations - LR2
,
Modelling Linear Relations - LR3
,
Quadratic Relations in y = ax^2 + bx + c Form - QR1
,
Quadratic Relations in y = ax^2 + bx + c Form - QR2
,
Quadratic Relations in y = ax^2 + bx + c Form - QR3
]
MHF4U
[
Characteristics of Functions - CF3
,
Exponential and Logarithmic Functions - EL2
,
Exponential and Logarithmic Functions - EL3
]
MPM1D
[
AG3
,
Analytic Geometry - AG1
,
Analytic Geometry - AG2
,
LR1
,
LR2
,
LR3
,
MG1
,
MG2
,
MG3
,
NA1
,
Number Sense and Algebra - NA2
]
MPM2D
[
AG1
,
AG2
,
AG3
,
QR2
,
Quadratic Relations - QR3
,
Quadratic Relations - QR4
,
T2
,
T3
]
Algebra
[
A-CED.1
,
A-CED.2
,
A-REI.6
]
Functions
[
F-BF.1
,
F-BF.3
,
F-IF.4
,
F-LE.1
,
F-LE.2
,
F-LE.3
,
F-TF.5
]
Geometry
[
G-C.5
,
G-C.8
,
G-C.9
,
G-GMD.3
,
G-GMD.4
,
G-GPE.4
,
G-GPE.5
,
G-GPE.7
,
G-MG.1
,
G-MG.2
,
G-SRT.11
]
Grade 1
[
1.NBT.4
,
1.OA.1
,
1.OA.6
,
1.OA.A.1
,
1.OA.B.3
,
1.OA.B.4
,
1.OA.C.5
,
1.OA.C.6
]
Grade 2
[
2.NBT.5
,
2.NBT.B.5
,
2.NBT.B.8
,
2.NBT.B.9
,
2.OA.2
,
2.OA.A.1
,
2.OA.B.2
]
Grade 3
[
3.MD.C.5
,
3.NBT.2
,
3.NF.1
,
3.NF.2
,
3.NF.3
,
3.NF.A.1
,
3.OA.1
,
3.OA.5
,
3.OA.9
]
Grade 4
[
4-MD.3
,
4.MD.1
,
4.MD.2
,
4.NBT.6
,
4.NF.3
,
4.NF.5
,
4.NF.6
,
4.OA.1
,
4.OA.5
]
Grade 5
[
5.B1.7
,
5.D1.3
,
5.D1.6
,
5.MD.1
,
5.MD.3
,
5.MD.4
,
5.MD.5
,
5.NBT.2
,
5.NBT.3
,
5.NBT.6
,
5.NBT.7
,
5.NF.1
,
5.NF.2
,
5.NF.3
,
5.NF.4
,
5.NF.5
,
5.OA.1
,
5.OA.2
,
5.OA.3
]
Grade 6
[
6.EE.1
,
6.EE.2
,
6.EE.5
,
6.EE.6
,
6.EE.7
,
6.G.1
,
6.G.2
,
6.NS.1
,
6.NS.3
,
6.NS.6
,
6.NS.B.3
,
6.NS.C.6
,
6.NS.C.7
,
6.NS.C.8
,
6.RP.1
,
6.RP.2
,
6.RP.3
,
6.RP.A.1
,
6.RP.A.2
,
6.RP.A.3
,
6.RP.A.3.C
]
Grade 7
[
7.EE.3
,
7.EE.4
,
7.EE.A.1
,
7.G.3
,
7.G.4
,
7.G.6
,
7.NS.A.1
,
7.NS.A.2
,
7.RP.1
,
7.RP.3
,
7.RP.A.2.B
,
7.RP.A.3
,
7.SP.2
,
7.SP.5
,
7.SP.6
]
Grade 8
[
8.EE.1
,
8.EE.5
,
8.EE.6
,
8.EE.7
,
8.EE.8
,
8.F.2
,
8.F.3
,
8.F.4
,
8.F.5
,
8.G.5
,
8.G.6
,
8.G.7
,
8.G.9
,
8.SP.1
]
Grade 9
Kindergarten
[
K.CC.A.1
,
K.NBT.A.1
,
K.OA.A.1
,
K.OA.A.2
,
K.OA.A.3
]
Practice
[
MP.1
,
MP.2
,
MP.3
,
MP.4
,
MP.6
,
MP.7
]
Statistics & Probability
[
S-ID.6
,
S-MD.4
]