No Expectations/Standards Selected
Real World Math in Proportional Reasoning
The following 3 act math task involves proportional reasoning and rates of change.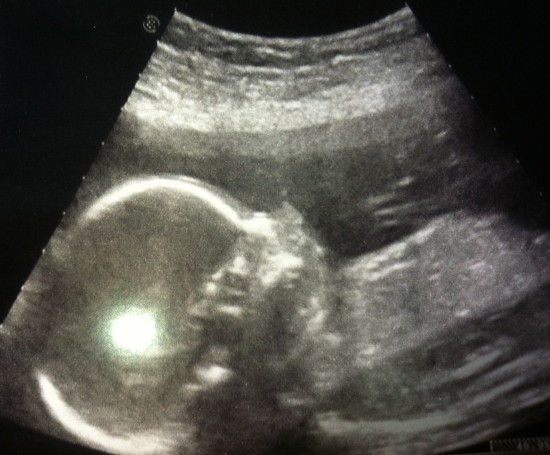 Act 1 – Setting the Stage
Watch the following video with audio of the heartbeat of my baby in the womb.
Suggesting that the students estimate how many beats per 10 seconds, beats per 30 seconds and beats per 1 minute is a good start to having them think about proportional reasoning and rates of change.
Act 2 – Giving Information
The following video will give students a number of beats per period of time. They can then use this to help them determine the number of beats per minute or any other suggested rate you would like.
Act 3 – Does The Theoretical Answer Match Practical?
Allow students to check their solutions:
Math Task Templates & Resources
Download a handy math task template below for students to use as they organize their work…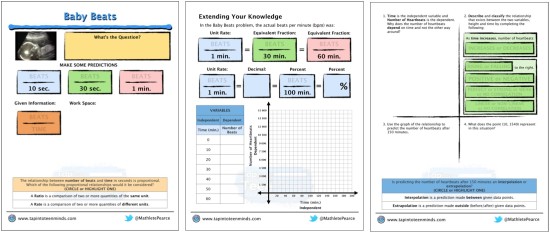 Download all of the videos and task templates by clicking below:
For those wondering, yes… this is the actual heartbeat of our second child, due in April of 2014. Very excited to share this 3 act math task with her/him once old enough! 🙂
Enjoy!
New to Using 3 Act Math Tasks?
Download the 2-page printable 3 Act Math Tip Sheet to ensure that you have the best start to your journey using 3 Act math Tasks to spark curiosity and fuel sense making in your math classroom!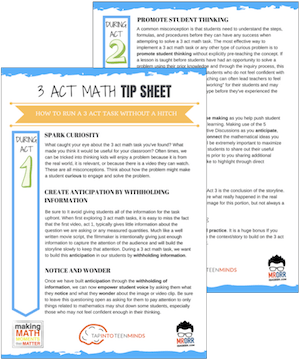 Share With Your Learning Community: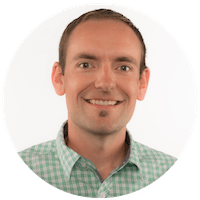 I'm Kyle Pearce and I am a former high school math teacher. I'm now the K-12 Mathematics Consultant with the Greater Essex County District School Board, where I uncover creative ways to spark curiosity and fuel sense making in mathematics. Read more.
Access Other Real World Math Tasks
---
Search More 3 Act Math Tasks
Grade 1
[
Number Sense and Numeration - NS1
,
Number Sense and Numeration - NS3
]
Grade 2
[
Measurement - M1
,
Number Sense and Numeration - NS1
,
Number Sense and Numeration - NS2
,
Number Sense and Numeration - NS3
]
Grade 3
[
Measurement - M1
,
Number Sense and Numeration - NS1
,
Number Sense and Numeration - NS3
]
Grade 4
[
Measurement - M1
,
Number Sense and Numeration - NS1
,
Number Sense and Numeration - NS3
,
Patterning and Algebra - PA2
]
Grade 5
[
Measurement - M1
,
Measurement - M2
,
Number Sense and Numeration - NS1
,
Number Sense and Numeration - NS3
,
Patterning and Algebra - PA2
]
Grade 6
[
Data Management and Probability - DP3
,
Measurement - M1
,
Measurement - M2
,
Number Sense and Numeration - NS1
,
Number Sense and Numeration - NS2
,
Number Sense and Numeration - NS3
,
Patterning and Algebra - PA1
,
Patterning and Algebra - PA2
]
Grade 7
[
Data Management and Probability - DP3
,
Geometry and Spatial Sense - GS1
,
Measurement - M1
,
Measurement - M2
,
Number Sense and Numeration - NS1
,
Number Sense and Numeration - NS2
,
Number Sense and Numeration - NS3
,
Patterning and Algebra - PA1
,
Patterning and Algebra - PA2
]
Grade 8
[
Data Management and Probability - DP1
,
Data Management and Probability - DP3
,
Geometry and Spatial Sense - GS2
,
Measurement - M1
,
Measurement - M2
,
Number Sense and Numeration - NS1
,
Number Sense and Numeration - NS2
,
Number Sense and Numeration - NS3
,
Patterning and Algebra - PA1
,
Patterning and Algebra - PA2
]
MAP4C
[
Mathematical Models - MM1
,
Mathematical Models - MM2
,
Mathematical Models - MM3
]
MAT1L
MAT2L
MBF3C
[
Data Management - DM1
,
Data Management - DM2
,
Geometry and Trigonometry - GT1
,
Geometry and Trigonometry - GT2
,
Mathematical Models - MM1
,
Mathematical Models - MM2
,
Mathematical Models - MM3
]
MCF3M
[
Exponential Functions - EF2
,
Quadratic Functions - QF1
,
Quadratic Functions - QF2
,
Quadratic Functions - QF3
,
Trigonometric Functions - TF1
,
Trigonometric Functions - TF3
]
MCR3U
[
Characteristics of Functions - CF1
,
Characteristics of Functions - CF2
,
Exponential Functions - EF2
,
Exponential Functions - EF3
,
Trigonometric Functions - TF3
]
MCT4C
[
Exponential Functions - EF1
,
Trigonometric Functions - TF3
]
MCV4U
[
Derivatives and Their Applications - DA2
]
MDM4U
[
Counting and Probability - CP2
,
Organization of Data For Analysis - DA2
,
Probability Distributions - PD1
,
Statistical Analysis - SA1
,
Statistical Analysis - SA2
]
MEL4E
MFM1P
[
Linear Relations - LR1
,
Linear Relations - LR2
,
Linear Relations - LR3
,
Linear Relations - LR4
,
Measurement and Geometry - MG1
,
Measurement and Geometry - MG2
,
Measurement and Geometry - MG3
,
Number Sense and Algebra - NA1
,
Number Sense and Algebra - NA2
]
MFM2P
[
Measurement and Trigonometry - MT1
,
Measurement and Trigonometry - MT2
,
Measurement and Trigonometry - MT3
,
Modelling Linear Relations - LR1
,
Modelling Linear Relations - LR2
,
Modelling Linear Relations - LR3
,
Quadratic Relations in y = ax^2 + bx + c Form - QR1
,
Quadratic Relations in y = ax^2 + bx + c Form - QR2
,
Quadratic Relations in y = ax^2 + bx + c Form - QR3
]
MHF4U
[
Characteristics of Functions - CF3
,
Exponential and Logarithmic Functions - EL2
,
Exponential and Logarithmic Functions - EL3
]
MPM1D
[
AG3
,
Analytic Geometry - AG1
,
Analytic Geometry - AG2
,
LR1
,
LR2
,
LR3
,
MG1
,
MG2
,
MG3
,
NA1
,
Number Sense and Algebra - NA2
]
MPM2D
[
AG1
,
AG2
,
AG3
,
QR2
,
Quadratic Relations - QR3
,
Quadratic Relations - QR4
,
T2
,
T3
]
Algebra
[
A-CED.1
,
A-CED.2
,
A-REI.6
]
Functions
[
F-BF.1
,
F-BF.3
,
F-IF.4
,
F-LE.1
,
F-LE.2
,
F-LE.3
,
F-TF.5
]
Geometry
[
G-C.5
,
G-C.8
,
G-C.9
,
G-GMD.3
,
G-GMD.4
,
G-GPE.4
,
G-GPE.5
,
G-GPE.7
,
G-MG.1
,
G-MG.2
,
G-SRT.11
]
Grade 1
[
1.NBT.4
,
1.OA.1
]
Grade 2
[
2.NBT.5
,
2.OA.2
]
Grade 3
[
3.NBT.2
,
3.NF.1
,
3.NF.2
,
3.NF.3
,
3.OA.1
,
3.OA.5
,
3.OA.9
]
Grade 4
[
4-MD.3
,
4.MD.1
,
4.MD.2
,
4.NBT.6
,
4.NF.3
,
4.NF.5
,
4.NF.6
,
4.OA.1
]
Grade 5
[
5.MD.1
,
5.MD.3
,
5.MD.4
,
5.MD.5
,
5.NBT.2
,
5.NBT.3
,
5.NBT.6
,
5.NBT.7
,
5.NF.1
,
5.NF.2
,
5.NF.3
,
5.NF.4
,
5.NF.5
,
5.OA.1
,
5.OA.2
,
5.OA.3
]
Grade 6
[
6.EE.1
,
6.EE.2
,
6.EE.5
,
6.EE.6
,
6.EE.7
,
6.G.1
,
6.G.2
,
6.NS.1
,
6.NS.3
,
6.NS.6
,
6.RP.1
,
6.RP.2
,
6.RP.3
]
Grade 7
[
7.EE.3
,
7.EE.4
,
7.G.3
,
7.G.4
,
7.G.6
,
7.RP.1
,
7.RP.3
,
7.SP.2
,
7.SP.5
,
7.SP.6
]
Grade 8
[
8.EE.1
,
8.EE.5
,
8.EE.6
,
8.EE.7
,
8.EE.8
,
8.F.2
,
8.F.3
,
8.F.4
,
8.F.5
,
8.G.5
,
8.G.6
,
8.G.7
,
8.G.9
,
8.SP.1
]
Practice
[
MP.1
,
MP.2
,
MP.3
,
MP.4
,
MP.6
,
MP.7
]
Statistics & Probability
[
S-ID.6
,
S-MD.4
]