A Collaborative Collection of 3 Act Math Tasks for Gr 6-10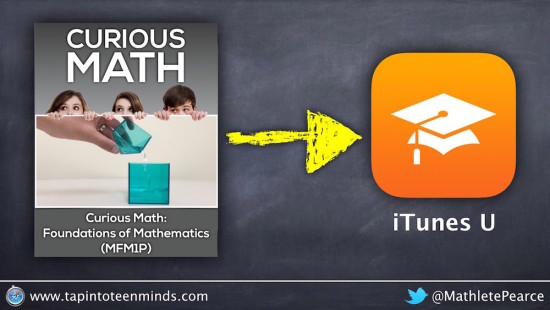 Recently, Jon Orr and I were talking about the struggle to easily share our 3 Act Math Tasks with colleagues both near and far. Our current setup was limited primarily to posting a summary of our tasks on our blog; including streaming video, some images, and even PDF files from time to time. After leading a number of workshops where some participants struggled with developing a way to bring the task into their own classroom, we started dumping the video files, images, keynote slide decks and documents into a shared Google Drive folder. Still, some were struggling with the idea of having to download tasks from the cloud, especially on mobile devices.
When I began experimenting with iTunes U as a tool to distribute resources to teachers at professional development sessions, I quickly realized that it was very convenient and easy for all users to access. Thus, Jon and I set out to create an iTunes U Course as a tool for math teachers to download all the necessary media files directly to their iOS device and allow them to lead a task straight from their mobile device.
We're also excited to announce that the course is now featured on the main iTunes U site and is also on the Apple Distinguished Educators on iTunes U site!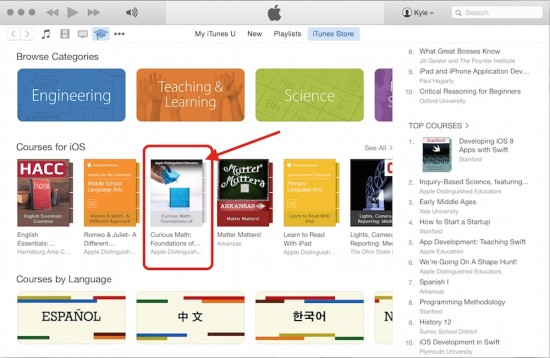 iTunes U Course Overview:
Course Information & Instructors
Once you jump into the Curious Math iTunes U Course, you'll get a chance to read some information about the course. While Jon and I originally created the course as a resource for Grade 9 Applied Math Teachers in Ontario, the tasks included could be used in a range of grades beginning at around Grade 6 to around Grade 10 in most curriculums (i.e.: Common Core State Standards, CCSS). On the Instructors page, you'll get a chance to learn a bit more about Jon and I.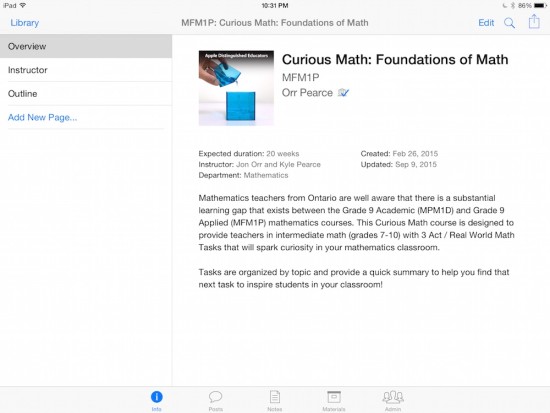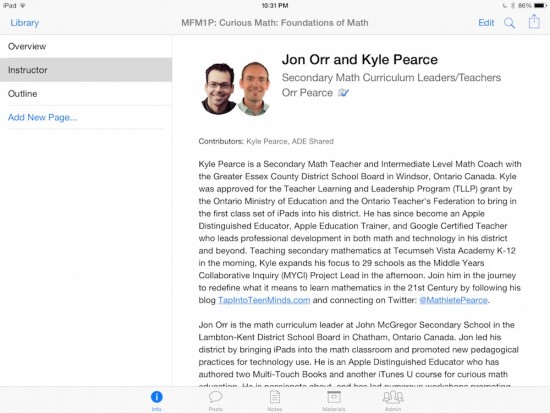 Course Outline & Task List
On the Outline page, you'll see the wide variety of Big Ideas as well as some of the more specific topics that we hit in this course. The Big Ideas and the tasks related to each include:
Measurement
Proportional Reasoning
Graphing
Linear Relationships
Algebraic Representations
Course Posts
When you tap the Posts button, you'll be able to jump to tasks related to any of the Big Ideas along the left pane, while getting a quick preview of each task along the right.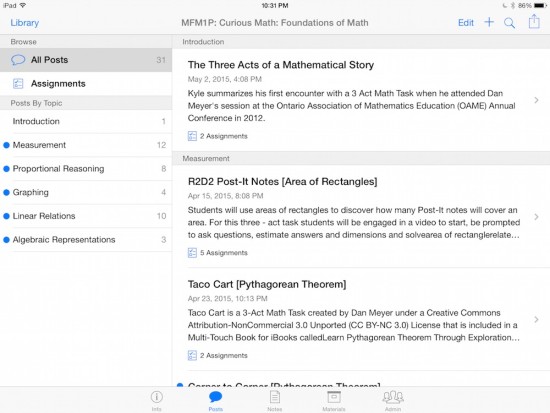 Post Summary
Tapping on a task, such as Mowing the Lawn, you'll get a quick summary as well as access to the "Assignments" or resources: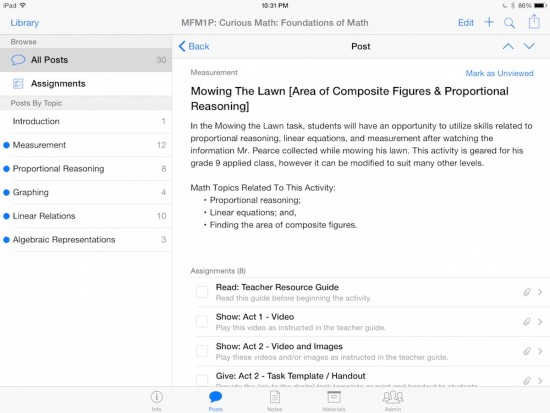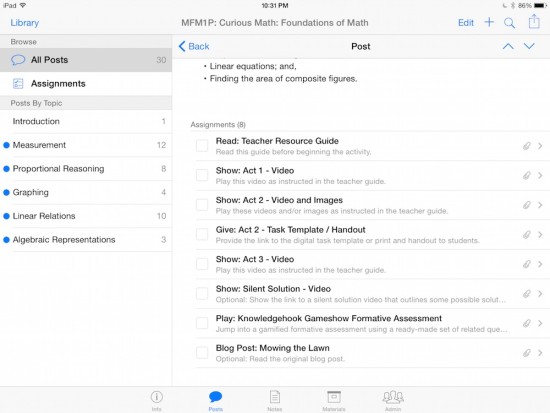 Teacher Resource Guide
Jon and I provided a Teacher Resource Guide for each task that gives an overview of the task as well as some teacher moves you may wish to use in your classroom. We tried to give a snapshot of how we have used each of these tasks in the past, but you are more than welcome to take different angles and approaches when you use the tasks.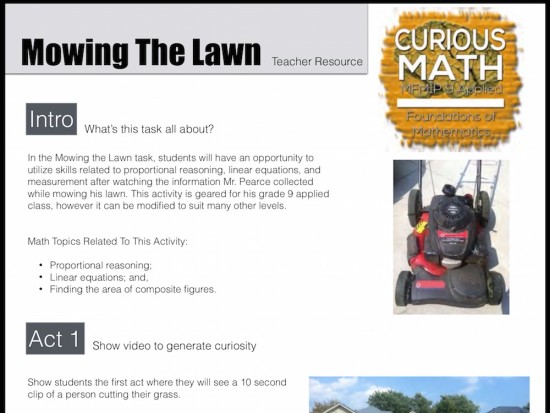 Videos and Images Download To Your iPhone/iPad
One of the most useful features of iTunes U is the ability to attach media files like videos that are downloaded directly to your iOS Device. By having the video file on your device, you avoid having to stream video from YouTube, Vimeo, or another cloud based file service. This makes it very easy for all teachers, experienced with technology and those who are not, to be able to use 3 act math tasks in their classroom.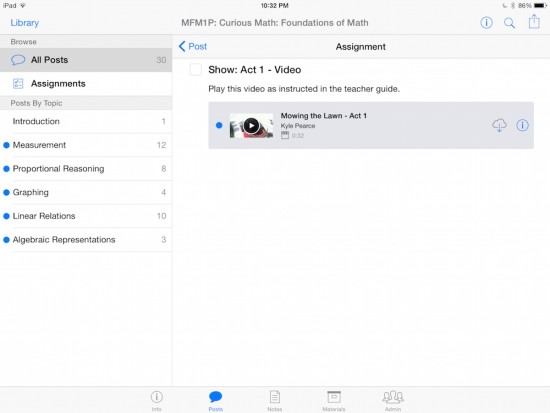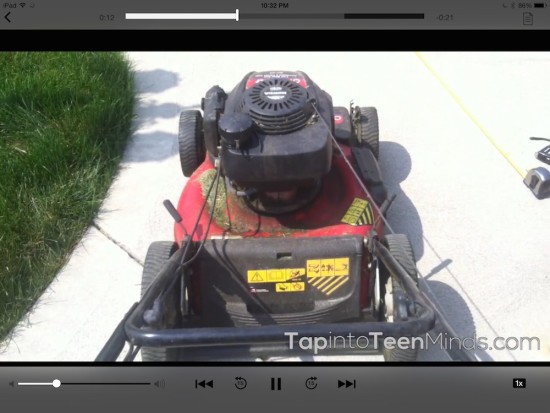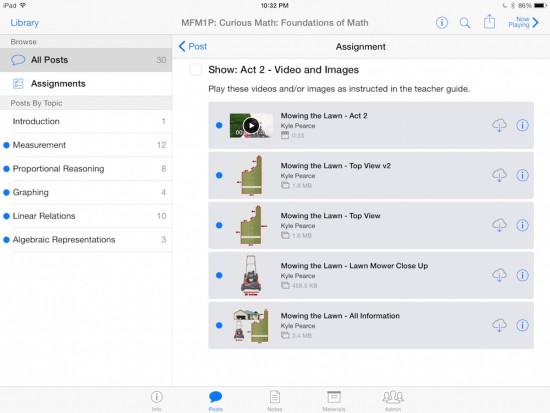 Math Task Template PDF Files
Many of the tasks also include some of our additional digital supports such as Math Task Template Files. While I've been cutting back on my use of these types of supports in my own classroom, I do find them very useful when you are using 3 Act Math Tasks for the first time.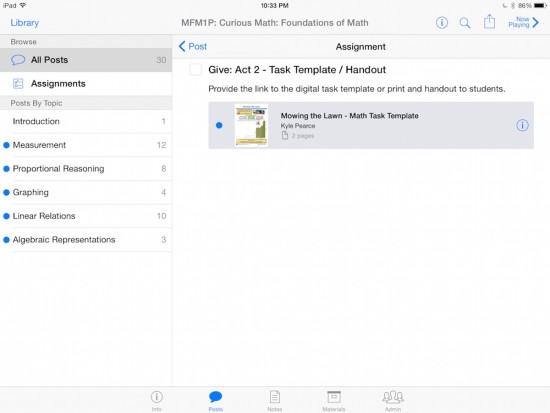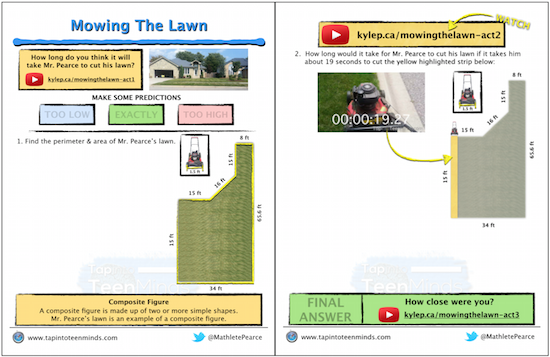 Formative Assessments Using Gameshow by Knowledgehook
The crew at Knowledgehook just released a brand new feature for their Free Gameshow tool that Jon and I had been asking for specifically for use in our Curious Math iTunes U Course. The Gameshow "Embed" feature now allows ready-made or custom Gameshows created by teachers to be embedded into websites, blogs, learning management systems and even iTunes U! If you haven't tried gameshow before, check out a blog post I created a few months back with a screencast tutorial.
As you can see below, by tapping on the Gameshow link included in assignments, you'll be taken to Safari in iOS to some formative assessment questions related to that task. Ideally, the teacher would copy this link and share it with their students in whatever form they would prefer.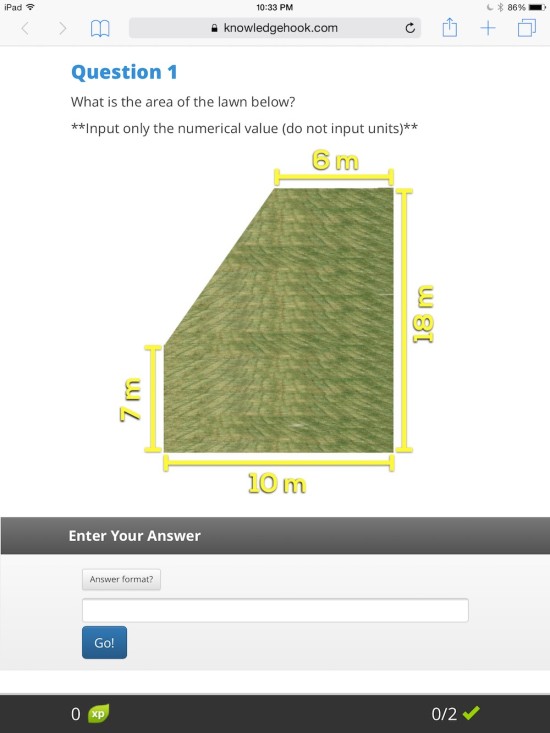 While students are able to do their work on a whiteboard or in a pencil/paper notebook, some students prefer to take a screenshot and use an annotation app like GoodNotes 4, Penultimate, or Notability.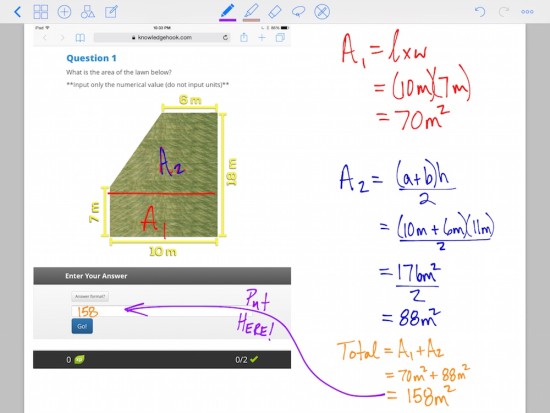 Gameshow is also pretty cool because they gamify the math classroom using XP points and a leaderboard: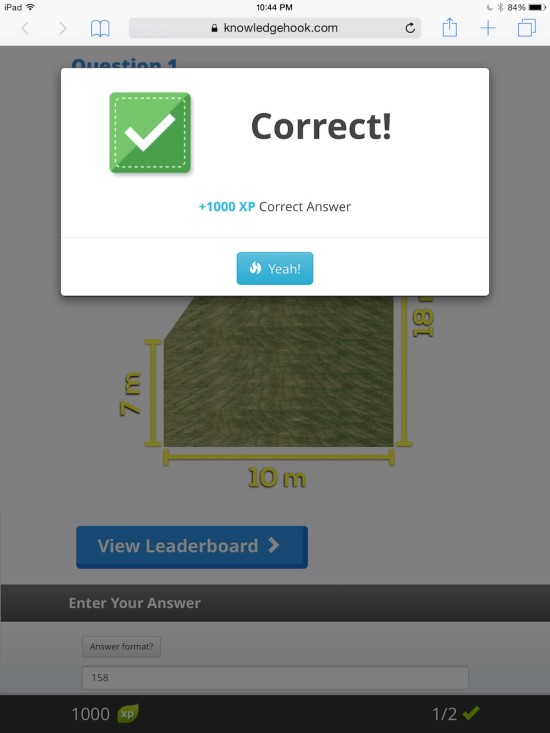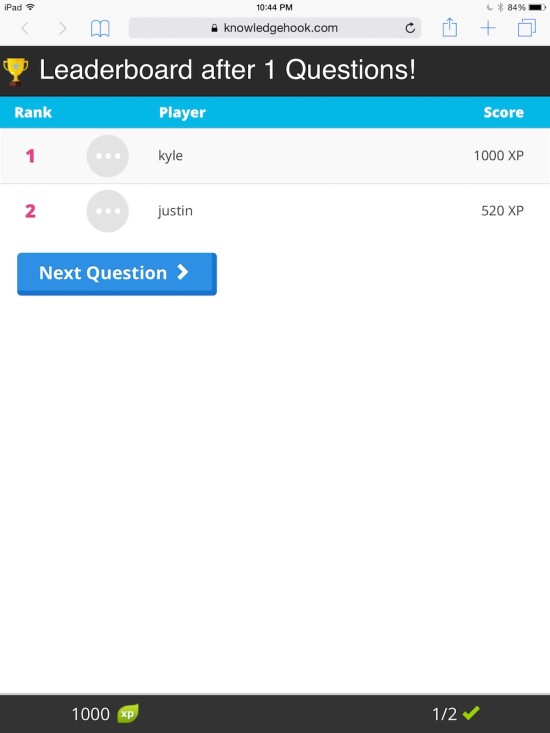 So if you haven't jumped into the Curious Math iTunes U Course yet, give it a closer look by enrolling below:
WANT TO LEARN HOW TO TEACH THROUGH TASK?
Download our Complete Guide to successfully implementing our Make Math Moments 3-Part Framework in your math class!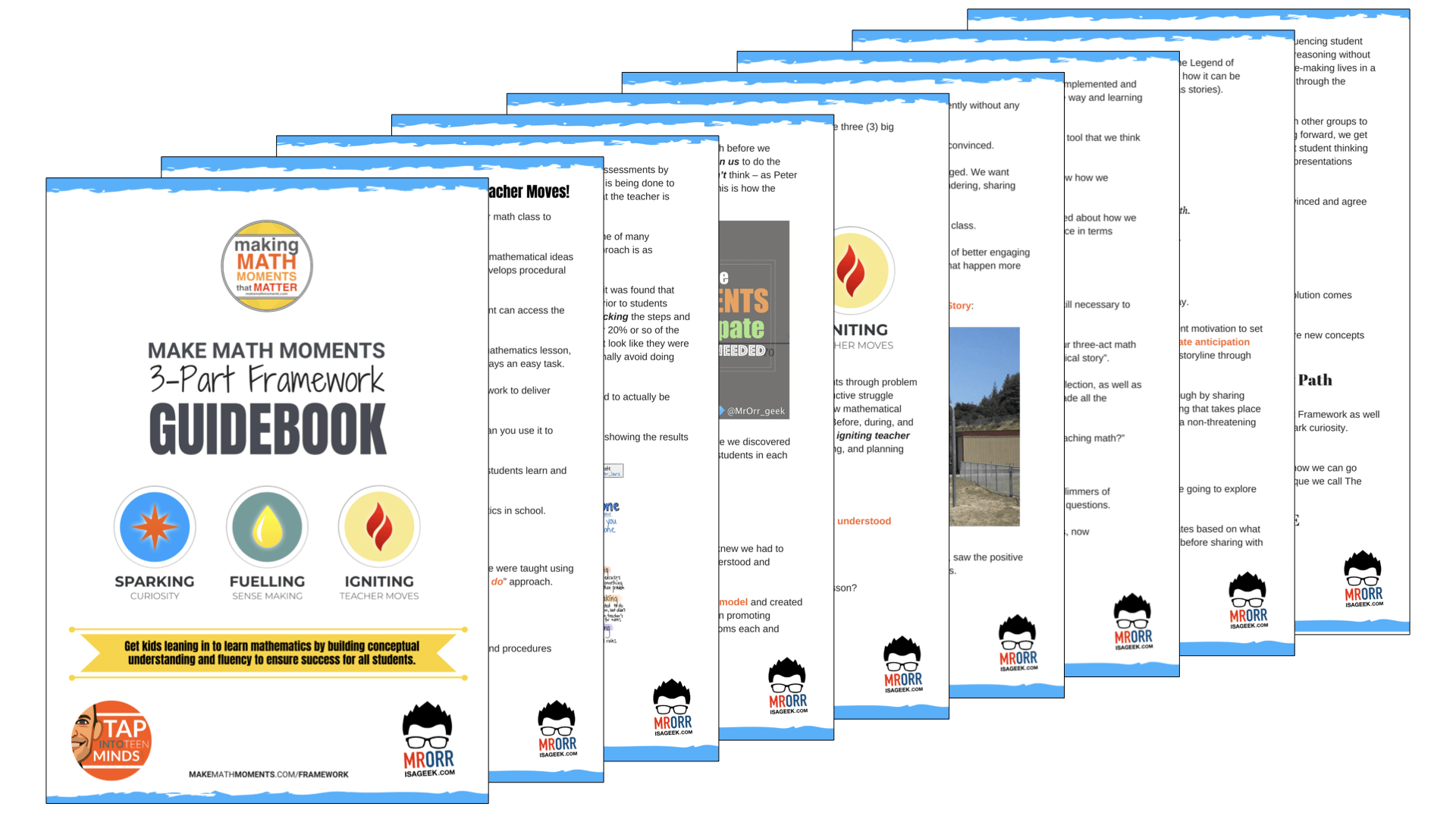 Share With Your Learning Community: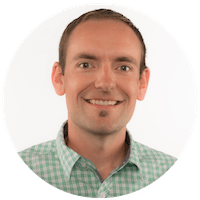 I'm Kyle Pearce and I am a former high school math teacher. I'm now the K-12 Mathematics Consultant with the Greater Essex County District School Board, where I uncover creative ways to spark curiosity and fuel sense making in mathematics. Read more.
Read More From The Blog
---
Not What You're Looking For?
Search By Criteria: