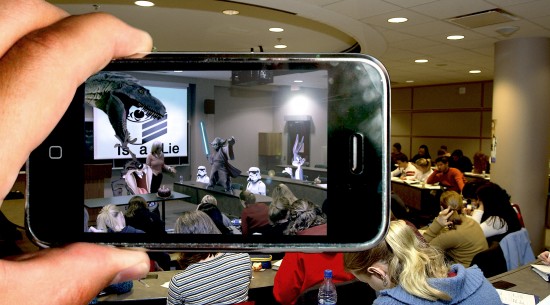 As you may be aware from some of my recent Tweets, I had the pleasure of presenting at the EdTechTeacher iPad Summit – Boston over the past few days. Overall, it was one of the best professional development experiences I have had the pleasure of taking part in. There were so many great sessions that I hope to blog about soon, but I think I'll start with the session that gave me inspiration to implement the idea in my own classroom immediately upon returning home.
Session Descriptor:
This presentation will explore the role that Augmented Reality apps play in making the 21st century digital classroom a wicked awesome place to teach and learn. The research behind the Augmented Reality phenomena will be presented to show that it is a sound educational practice. The construction of all these powerful devices that can facilitate this kind of learning is also fascinating, with using modern electronic components similar to what can be found at Octopart.com powerful smartphones exist to make this a reality. Most importantly elementary, middle, and high school teachers as well as college professors will leave this session with several tools in their tool belt. Participants will understand which Augmented Reality apps are appropriate choices for their individual learning environment. The instructor will share how Augmented Reality can be embedded into the curriculum as well sharing a bevy of instructional activities that will make your head spin thinking of the possibilities of using this cutting edge technology in your classrooms. The presenter collaborates with various Augmented Reality lovers from all over the world and will share global examples of AR best practice with the audience. Get ready to have your mind blown!!
Although I had heard about the Augmented Reality/AR-Buzz going on in education right now, I really didn't have any interest in attending such a session before arriving at the conference. Having met Courtney at the ADE Institute 2013 in Austin this past summer, I wanted to at least pop by and show some support. I've never understood the educational benefit of using AR in the classroom, but as I watched her lead a great session showing how this new technology could be used in primary all the way to secondary, I quickly made a connection that would inspire my next classroom goal.
Augmented Reality Trigger Walls
During the session, Courtney showed a video of a student explaining the "Trigger Wall" in their classroom. By simply scanning any photo on the wall with any device, you would be redirected to a YouTube video of that particular student. I'm sure that there are other types of trigger walls in her classroom, but I quickly began planning how I would use AR Triggers on my walls to help students address learning goals that they had struggled with earlier in the year.
How Does It Work?
Courtney suggested using Layar to accomplish such a task. You can create a free account online, begin a new campaign, and quickly begin uploading images (known as "Pages") that will be used as your "Triggers". Note that this service was designed for businesses to advertise, so in order to keep it free, you will see an advertisement banner at the bottom of your Augmented Reality Triggers when they are scanned.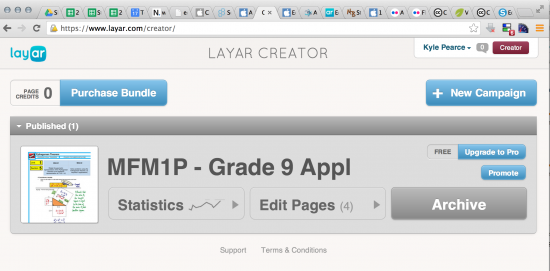 Link Content to Your Augmented Reality Triggers
When you add buttons to your triggers, students can scan any image on your wall and they will see the Buttons with active hyperlinks floating over the images on their iPad. Students can then quickly tap where they want to go, whether it be a summary of that learning goal, some practice questions, videos, or even links to online practice such as Khan Academy.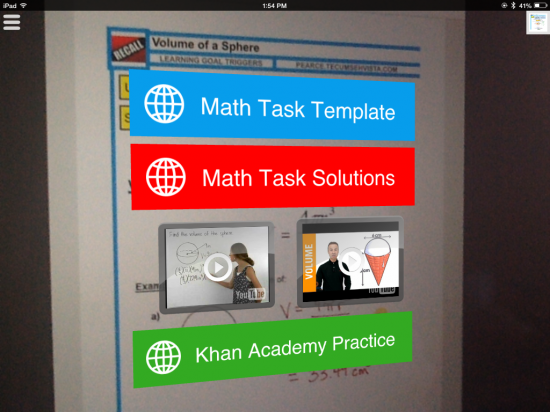 Check Out a Working Example:
Use Layar to Scan the Image Below: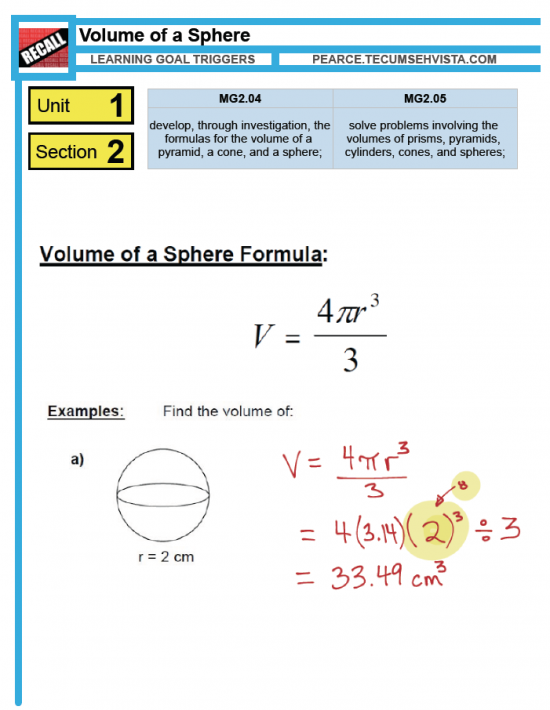 ---
I hope that this post will inspire you to use Augmented Reality in your classroom for something similar to my Learning Goal Wall or for something completely unique. Please do share any other ideas you may have in the comment section!
Thanks for reading and a huge thanks to Courtney for inspiring me to use Augmented Reality in my Math Classroom!
WANT TO LEARN HOW TO TEACH THROUGH TASK?
Download our Complete Guide to successfully implementing our Make Math Moments 3-Part Framework in your math class!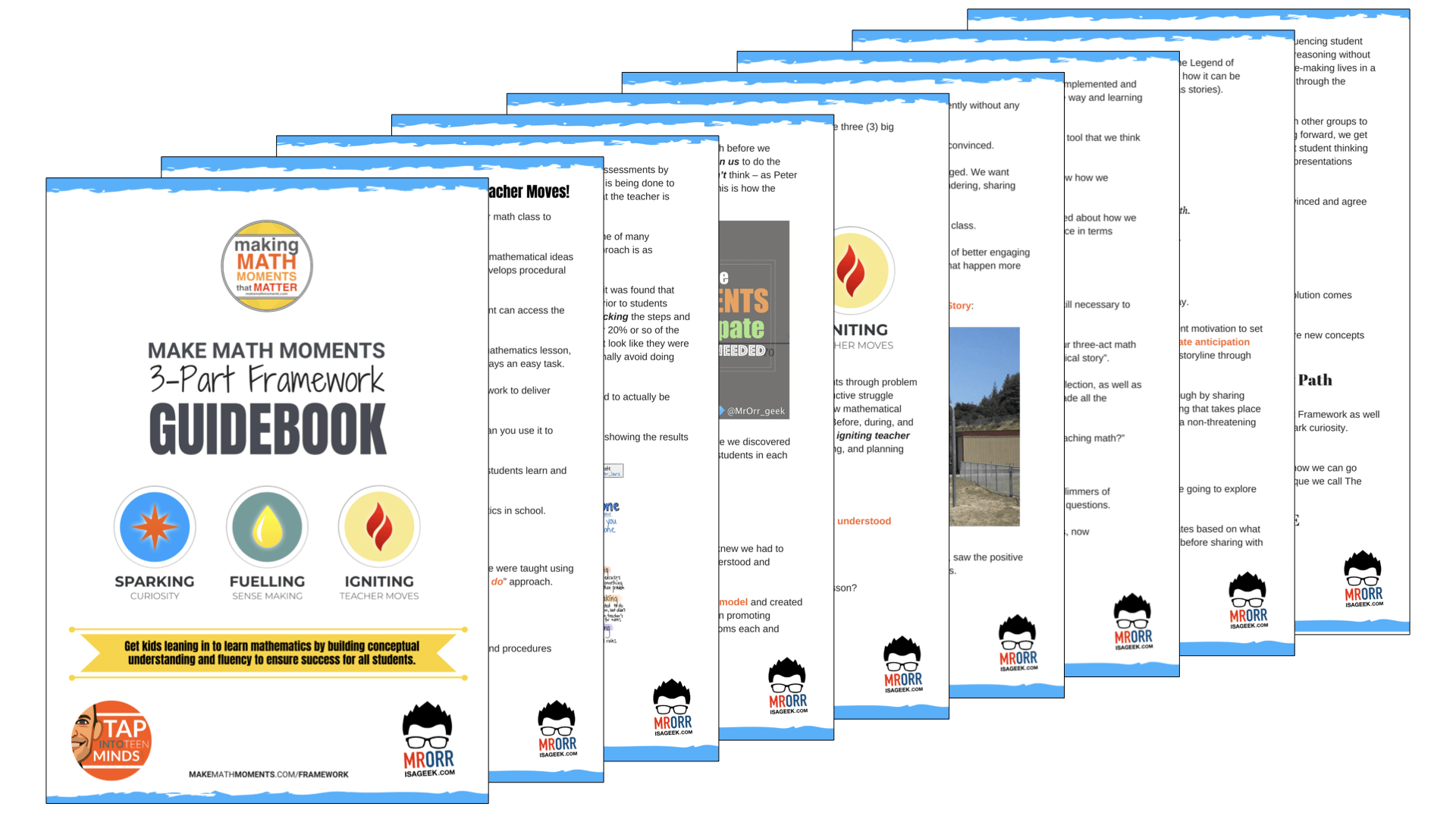 Share With Your Learning Community: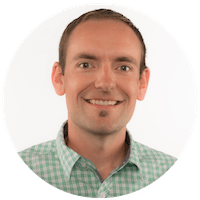 I'm Kyle Pearce and I am a former high school math teacher. I'm now the K-12 Mathematics Consultant with the Greater Essex County District School Board, where I uncover creative ways to spark curiosity and fuel sense making in mathematics. Read more.
Read More From The Blog
---
Not What You're Looking For?
Search By Criteria: