…and why Blogger was my classroom choice over WordPress and EduBlogs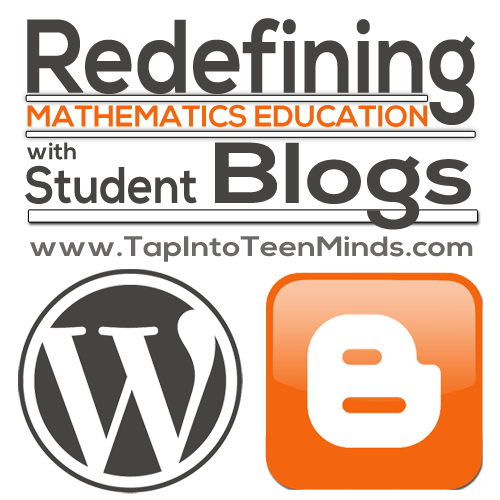 As you may remember from a previous post, Redefining Mathematics Education with Student Blogs, I am very excited to get my students blogging on their own blogs. With the general premise being that publishing content for the world to see, students will take more ownership of their learning and work they produce. Although I was psyched to implement blogs as soon as possible, I knew that I needed to do some serious thinking about what blogging platform would be ideal for my students.
Obviously, the important part to start is that we choose the best blogging platform, and originally I thought that WordPress would be the platform of choice as I have had experience creating many blogs in the past and they can be as simple or complex as you'd like. I could also just show the students this you tube video if they needed it explaining. I just hope that this video does its job and makes them understand most of the things related to this topic.
To be honest, I almost love all the customizations possible with WordPress, especially the one called bb press plugin. What is bbPress? Well, it is an open-source forum software that was designed to meet the demand of adding forums easily. Since then, it has been turned into a plugin that can be installed, activated and configured as easily as any of the other popular plugins currently available to WordPress users.
However, this time I was looking for blogging platform options that would be the easiest to setup and most efficient for students to post content from an iPad. I'm pretty picky when it comes to how my blogs/websites look, but this is not purpose of student blogs and it took me a while to realize this.
Sealing the Deal: A New Google Apps for Education Domain
Just last month I recently introduced a Google Apps for Education (GAFE) domain for my school and I had made a commitment to experiment using Google Drive as our cloud-computing solution over Dropbox. Since all students in our school would have access to a Google account for Google Apps like Gmail, Calendar, Drive and Blogger, I really couldn't say no.
After having my students setup their blogs using Blogger today, I'm happy to say that the choice was a great one. Creating a student blog with Blogger is quick and easy, with just a few steps outlined below.
How to Create Student Blogs with Blogger
Assuming students already have a Google account through your own Google Apps for Education domain or a personal Google account, have them go to www.blogger.com and are not in the Blogger iPad app for the initial creation of their blog. The app is great for creating posts, but the blog must be created prior to using the app.
Step 1 – Tap on New Blog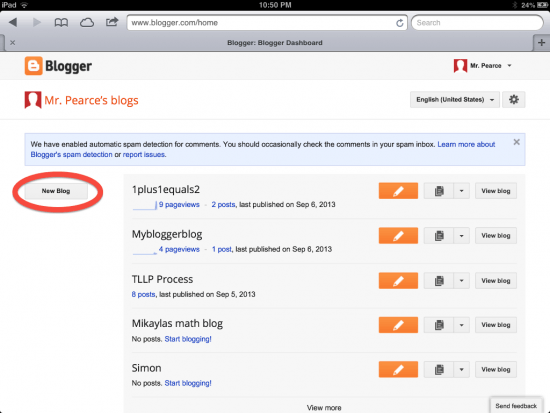 Step 2 – Name Your Blog
Enter a title for your blog as well as a URL for the blog. Make sure students know that the URL must be unique, so common titles may already be taken. Reminding students about making catchy titles with easy to remember URLs is best practice in order to be found. Let your students know if they truly can't think of a name for their blog, they could use a domain name generator that you can find all over the web that could perhaps give them a unique name, that even they like!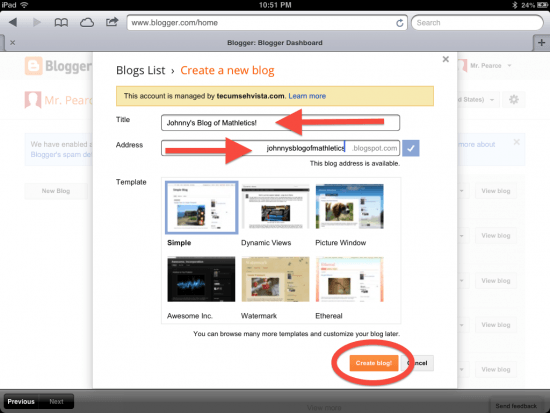 Step 3 – Add Teacher as an Author/Administrator
It is always a good idea to have students add you as an author or even better, an administrator. Not only does this allow you to modify settings and posts on each student blog, but they will also appear in your list of blogs in your own blogger account. This makes it easier to manage student blogs throughout the school year.
You can do this by accessing the Settings from the drop-down menu.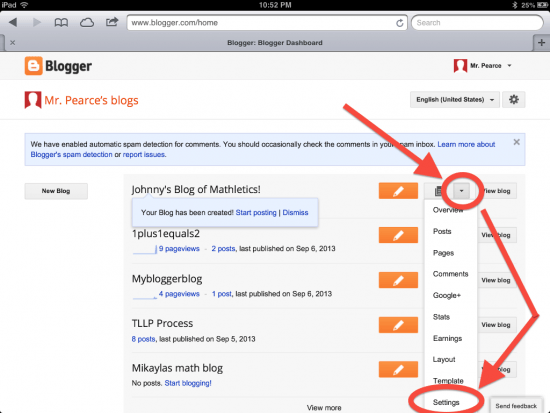 Scroll down to Permissions and select Add Authors to enter in your email address.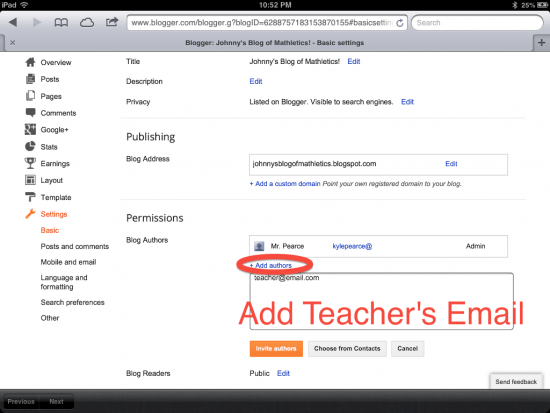 Step 4 – Logout of Web-Based Blogger
At this point, students can logout of the web-based version of blogger and begin posting via the Blogger iPad app.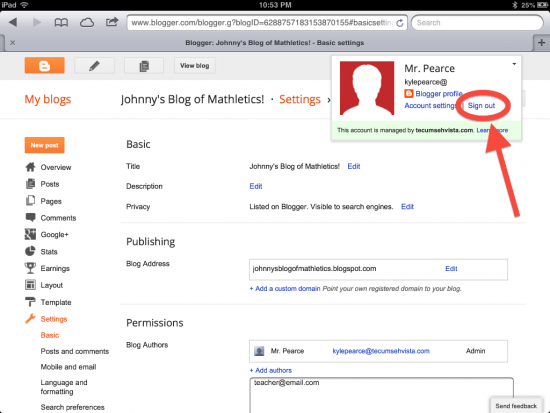 As a quick note, after being added as an author, you must accept the invitation before the student blogs will appear in your own Blogger account. I accepted the invitations during class, but it took longer than expected. In the future, I'll likely just accept them at night in preparation for the next day.
Step 5 – Create Posts via the Blogger App!
Students can now login to the Blogger iPad app and begin creating content. Just by reading some of the creative blog titles students have used makes me think that I want to allow students to blog about other topics on their own time as well. We will use labels (categories) to keep things organized and I will be allowing students to label posts unrelated to math as something like "non-math", "unrelated" or "naddamath" – whatever they want.
Here's a couple screenshots of how quick and easy students can create a post on their new Blogger blogs:
---
Are you blogging with your students in math or another subject-area? If so, let us know how it's going!
WANT TO LEARN HOW TO TEACH THROUGH TASK?
Download our Complete Guide to successfully implementing our Make Math Moments 3-Part Framework in your math class!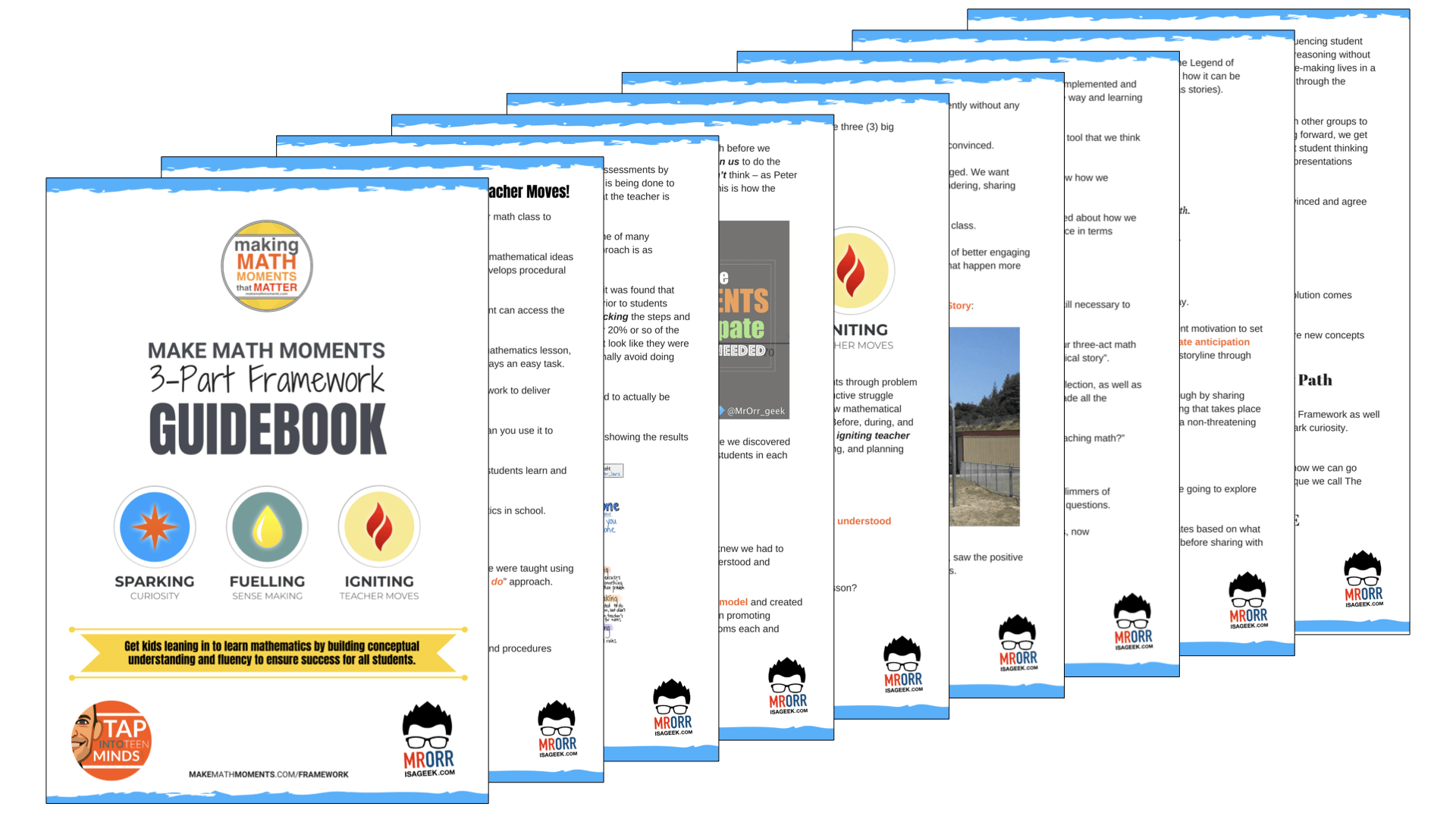 Share With Your Learning Community: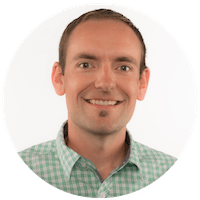 I'm Kyle Pearce and I am a former high school math teacher. I'm now the K-12 Mathematics Consultant with the Greater Essex County District School Board, where I uncover creative ways to spark curiosity and fuel sense making in mathematics. Read more.
Read More From The Blog
---
Not What You're Looking For?
Search By Criteria: