Join the Discussion During The OAME Annual Conference!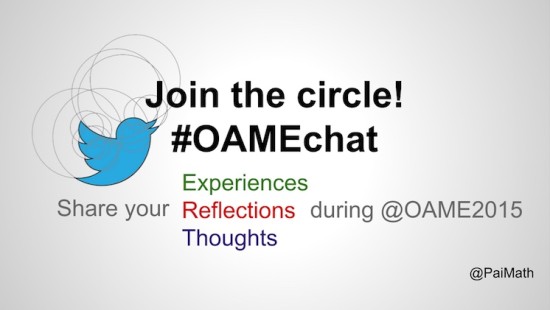 A couple weeks ago, Jim Pai tossed out the idea of creating a Twitter Chat that will run in the style of #slowmathchat by Michael Fenton. A group of Ontario Math Educators including Jon Orr, Matthew Oldridge, Amy Lin, Mary Bourassa and myself jumped on-board.
If you are unfamiliar with #slowmathchat, be sure to check out Michael Fenton's post outlining how it works.
The #OAMEchat Focus
As mentioned, we will be following the #slowmathchat model by Tweeting out questions throughout the OAME Annual Conference to encourage:
People sharing their experiences from OAME
People sharing their thoughts on their experiences from OAME
People sharing their reflections on their thoughts on their experiences from OAME
People not attending sharing their reflections on the thoughts of the experiences of others from OAME
While the intent was to connect mathematics educators during the conference, it is possible that we continue with the same format after the conference comes to an end.
What's the Difference Between #OAMEchat & #OAME2015?
Use the hashtag #OAMEchat to engage in conversation related to the four (4) questions that will be tweeted out from Tuesday to Saturday during the OAME 2015 conference. The hashtag #OAME2015 is for general conversation about the conference that is not specific to the chat.
However, consider using BOTH hashtags when participating in the chat to inspire others following the #OAME2015 hashtag to join in!
#OAMEchat Schedule & Tweetiquette
#OAMEchat will consist of four (4) questions that will be tweeted out throughout the OAME 2015 Annual Conference. Here's the schedule:
Tuesday May 5th & Wednesday May 6th – Question #1 (Q1)
Thursday May 7th – Question #2 (Q2)
Friday May 8th – Question #3 (Q3)
Saturday May 9th – Question #4 (Q4) & Question Summary
Each question tweet will begin with the letter "Q" and the question number (e.g.: Q1 for question #1). In order to help those in the chat understand which question your tweet corresponds to, we suggest that you begin your tweets with the letter "A" and the question number (e.g.: A1 for answer #1).
Why Participate in #OAMEchat?
Many grew up writing notes in a binder that would get tucked away – often never to be read again.
Recently, I began using Twitter as a way to document some of my learning at conferences by quoting speakers and sharing big ideas acquired from sessions. Not only does this provide me with a digital filing system that I can go back through to refresh on some key learnings, but it also prompts interaction from my Twitter Professional Learning Network.
There are other ways to grow it of course, this "Twiends is legit" article discusses those options in more detail if you are interested in learning more. For the most part participation in hashtag events often helps you grow your networks and reach like-minded people or perhaps fresher perspectives on the subjects you talk about. Many business owners use this platform for their business growth, where they promote their particular product, service, or brand as a whole. If their click-through rate and follower count increase, sales may increase as well. Maybe, it is for this reason that many brands tend to buy retweets on their own tweets so that the users feel the brand is credible and popular enough. This could also garner more attention and followers for the brand.
For an example, here is a recent (short) conversation prompted by a reflective Tweet:
I *try* to include my direct instruction during consolidation rather than prior to the task, building on strategies observed. #springsimk12

– Kyle Pearce (@MathletePearce) April 23, 2015
@MathletePearce #springsimk12 letting students construct their own understanding and struggle if necessary rather than telling/over scaffold

– LMS-Campbell (@lstrangway) April 23, 2015
@lstrangway exactly – then, that leaves little for the teacher to clarify/extend throughout.

– Kyle Pearce (@MathletePearce) April 23, 2015
@MathletePearce we have a BINGO!

– Alex Overwijk (@AlexOverwijk) April 23, 2015
How Does #OAMEchat Work?
During the OAME Annual Conference, we will:
Post four (4) questions throughout the conference;
OAME Attendees and those following via Twitter can share their experiences from the conference, while sharing their responses to the questions; and,
At the end of the conference, we will archive the conversation for future reference.
How Can I Participate in #OAMEchat
Disclaimer: These ideas are stolen from Michael Fenton's post:
Add a #OAMEchat column to your Twitter client. I've been a fan of Tweetdeck for quite some time, but there are others that will allow you to do the same. If on a mobile device, be sure that you continue checking the hashtag via the search field in the Twitter app.
Spread the word about #OAMEchat by retweeting questions, answers, and any other interesting Tweets with the hashtag.
Toss out some interesting questions during the conference to keep the chat lively!
Do you have ideas to make the chat awesome? Please let us know in the comments! Looking forward to your Tweets at the conference!
WANT TO LEARN HOW TO TEACH THROUGH TASK?
Download our Complete Guide to successfully implementing our Make Math Moments 3-Part Framework in your math class!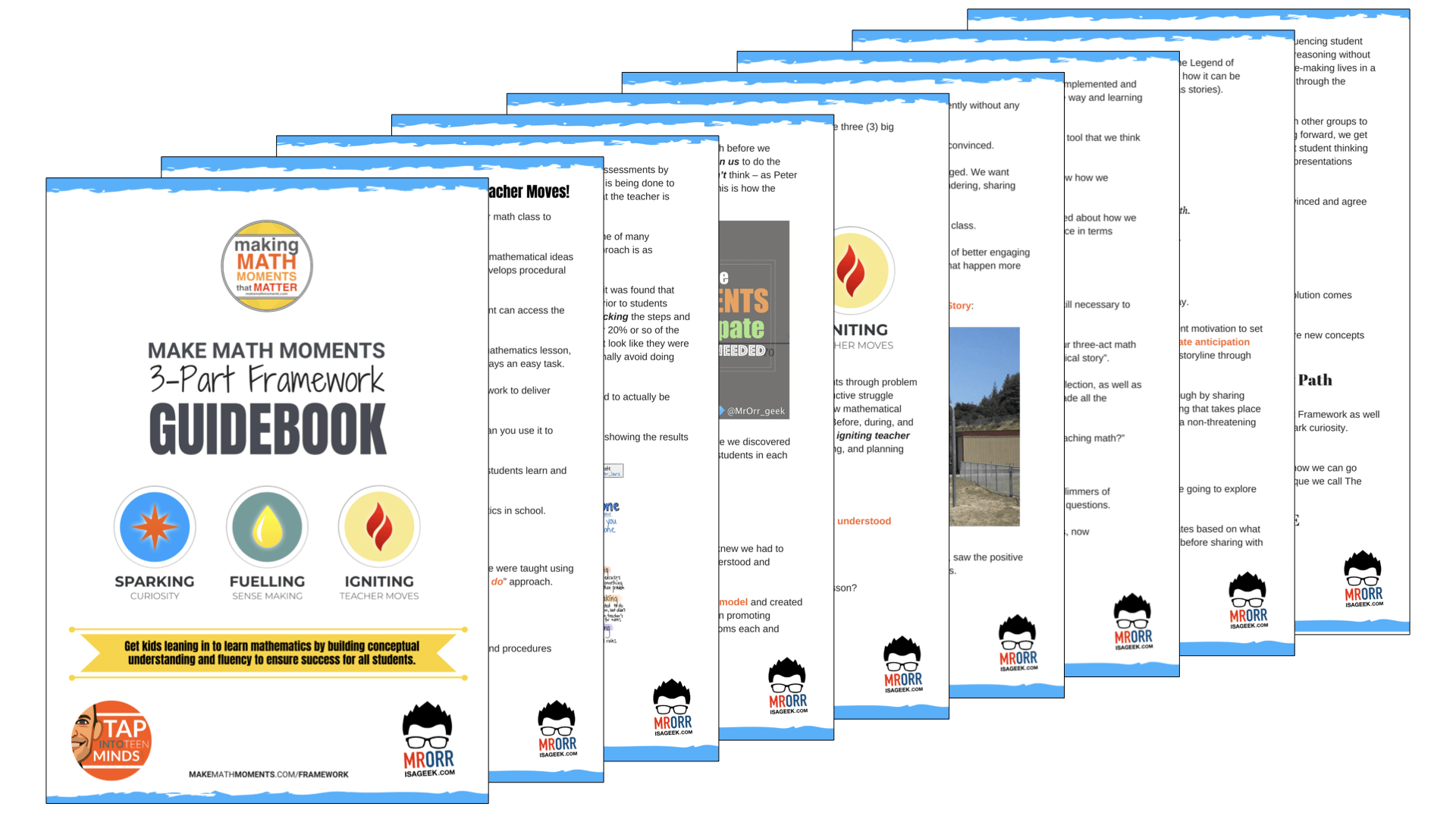 Share With Your Learning Community: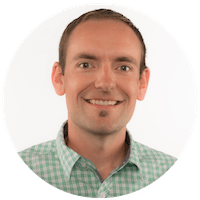 I'm Kyle Pearce and I am a former high school math teacher. I'm now the K-12 Mathematics Consultant with the Greater Essex County District School Board, where I uncover creative ways to spark curiosity and fuel sense making in mathematics. Read more.
Read More From The Blog
---
Not What You're Looking For?
Search By Criteria: