Type of App:
Game-Based Learning
Math Apps
If you follow my blog, you may have read my post I wrote after first being introduced to The Land of Venn here as well as the full game review video I shared recently here. This gameeducation app sets out to provide the user with an entertaining gaming experience, but also manages to introduce primary geometric concepts to develop the terminology and shape identification skills necessary in young grades.
It took me some time playing the game before I really saw the educational value which is what the developers wanted. If you'd like to read my full review, see this post.
More Information From The App Store:
Picked by Apple for Best new apps&games in more then 135 countries!!!
Highly recommended by teachers – "Our children love the quirky characters, silly voices and the fact that they are learning so many maths concepts without even knowing it! " Stephanie Smith Classroom Teacher
– "One of the most exciting math games in iTunes! Kids wield the power of geometry to draw shapes to defeat the baddies and save the world." – techwithkids.com
"It's zany…it's crazy and the kids won't even realize they are learning. hands down our favorite educational game of 2014." – fourlittletesters.com
– "a clever way to reinforce the learning in a imaginative way and the built in magical rewards have captured students aged 4 to 11. " – Mr Simon Pile , Primary School, London, UK
– "Engaging and vibrant, it is one of the best apps for helping kids learn about shapes I've yet seen." – Steve Bambury Founder iPad Educators
– "This game takes the concept of gamification to the next level!" – Kyle Pearce Secondary Math Teacher
——————————————————————————–
The Land of Venn is under attack! YOU are our only hope!!!!
You are the only one who can save the Land of Venn from utter destruction by the hands of the evil wizard Apeirogon who lives atop the Dark Square Root.
Use ancient knowledge gained from Lumbricus the Wizard Worm to protect the Magic Juice from being drunk! Save us all!!! "With knowledge comes power" and the ability to learn and earn more gold and gain access to more powerful wisdom and magical spells.
You must defeat Apeirogon by eliminating the Bookkenriders. Are you up to the task?
FEATURES:
* 100% irresistible for kids grades 1st-4th (but also for their parents)
* Aligned with the Common Core State Standards Curriculum
* 30 Screens of implicit learning
* A subtle yet adaptive learning system aimed at the child for successful and meaningful learning process.
* 12 Interactive Tutorial screens
* Learn and master 12 Magic Abilities from the Point of fire and Straight line of hope to The Frozen Triangle and the Trapezoid of Doom.
* Earn gold and buy from buy 16 Spells at the Wizard Wall – Bird of eternity, Meteors, Sulfur, Firetrucks, Storms and more
* Fight 15 different monsters (Bookkenriders) that will test your strength by flying, driving, crawling, jumping and more
* 30 Hand Crafted levels of Strategic Game play
* 3 Unique and Funny worlds to protect and explore
* Original Soundtrack
* 12 Interactive Tutorial screens that will get you ready for battle
* And 1 Crazy Worm Wizard
****************************************************************************************
Over five years of searching for the most effective pedagogy for teaching geometry to young students has led to the Land of Venn – an educational math platform that simulates the way children initially learn from parents; by imitation, play and conversation, as opposed to "frontal" teaching, with "one-dimensional" challenges and practice without context.
It stimulates a child's natural learning mechanism: imitation, repeated experimentation, play and visual feedback processing, coupled with concrete and complex sounds that accompany each of the 11 levels, all the while guided by a Wizard Worm.
Throughout the 30 different levels, children will learn the language and mathematical concepts relevant for ages 4 to 10 including points, square and feature sets, and hierarchical relationships.
We are a gaming studio that develops STEAM
(Science, Technology, Engineering, Art, Math) related games, with an emphasis first and foremost on the gaming experience, weaving in the pedagogy transparently.
---
Share With Your Learning Community: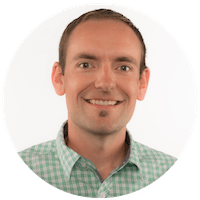 I'm Kyle Pearce and I am a former high school math teacher. I'm now the K-12 Mathematics Consultant with the Greater Essex County District School Board, where I uncover creative ways to spark curiosity and fuel sense making in mathematics. Read more.
Learn About Other Math Apps
---
Not What You're Looking For?
Search Math Apps By Criteria: