Type of App:
Assessment and Evaluation
Interaction
Teachers, instructors, sales reps – anyone who gives presentations and wants to know if their audience is grasping the content – on the spot – needs this app. Along with a wi-fi network and a Mac or iOS device, you can create and send questions to the smartphones, laptops and tablets in the audience. And find out if your message is being received.
ABOUT:
Introducing eClicker Presenter. With it, you can create and deliver questions to a roomful of people without having to shell out big bucks for proprietary hardware systems. The good news for your audience? They can participate with the internet-enabled devices they already own, through a web browser or the free app, eClicker Audience (for iOS devices).
FEATURES:
● Create and categorize a variety of question types – multiple choice, true/false, and agree/disagree
● Draw, take a picture, or use an existing photo or drawing to give your questions extra visual punch
● Questions get delivered directly to the audiences' devices, so you don't have to mess with a projector or other demonstration software
● Create quizzes that deliver questions one-at-a-time, according to your pace, or allow participants to answer at their own pace
● Share question playlists with other eClicker Presenter users via email
● Get instant reports on each session, and export the results for tracking over time
● iCloud syncs your data across multiple devices
● Beautiful, intuitive user interface
DETAILS:
eClicker Presenter is made up of two parts: the Presenter and the Audience. Teachers and presenters use the eClicker Presenter app to enter questions and begin the polling. Participants use the free eClicker Audience app, or their device's web browser, to view and answer the questions, right on their smartphone, tablet or laptop.
eClicker Presenter for iOS:
Handles at least 64 participants on an iPad and 32 on an iPhone or iPod Touch.
eClicker Presenter for Mac:
Handles at least 128 audience devices and of course, you get to use a "real" keyboard.
---
Share With Your Learning Community: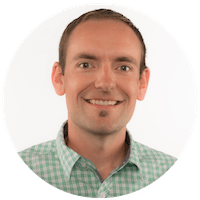 I'm Kyle Pearce and I am a former high school math teacher. I'm now the K-12 Mathematics Consultant with the Greater Essex County District School Board, where I uncover creative ways to spark curiosity and fuel sense making in mathematics. Read more.
Learn About Other Math Apps
---
Not What You're Looking For?
Search Math Apps By Criteria: