My Teacher Learning and Leadership (TLLP) project was underway near the beginning of this school year and here we are approaching the last month of it already! As you've probably read in some of my earlier posts, the number of hours required to find a routine and classroom setup that would work to maximize the efficiency of my paperless iPad classroom has been huge. In the second semester of implementing an iPad digital classroom in the cloud, I have finally made it to a point where I could start expanding the project to new ideas and approaches. From the start, I was curious to learn more about Apple TV (ATV) and the benefits it could provide in our Tap Into Teen Minds Classroom.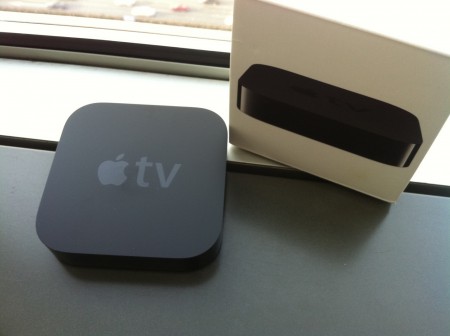 After presenting at the beginning of May at the OAME 2012 Conference in Kingston, Ontario, I was inspired to go out and discover something new. As soon as I got home, I popped into Best Buy and purchased an Apple TV (ATV) for $109 and ran home to try it out.
Initial Reaction
Overall, a great concept by Apple, allowing users to stream content on iTunes from their Macs and PC's to their TV. Content from the internet can also be streamed such as YouTube, Flickr, and MLB.tv and users can also rent movies and TV shows from iTunes. As with all Apple products, there are restrictions and limitations. While this is disappointing, it was expected. There are clearly some cool ideas and features which will slowly be released as the newer generation models are introduced.
The biggest issue with buying this kind of technology, however, is keeping it secure. People often target Apple products when breaking and entering, sadly. This can happen anywhere, from home to school. When you consider how much they tend to cost, it sadly makes sense. So sure, I was apprehensive over the cost of the equipment. I mean, what if something happened after hours and we were back at square one?
It made looking into another prior investment important. Our security system. After a bit of investigation, the school's security system isn't far off the kind of Monitored alarm system I have at home, which came as a relief. So, with that worry out of the way, I felt more confident in using an ATV in the classroom. So, the next question was – how should I use it?
Use Apple TV to Mirror iPad in Classroom – Digital Bansho
One of the additional features of Apple TV which goes unnoticed for many typical users would be the option to mirror the screen of your iPad. For someone using Apple TV at home, this may not be a popular feature, but for a teacher, it is a must have for the classroom.
By using Apple TV to mirror iPad in the classroom, I can present directly from my iPad. Better yet, if you have a 1:1 iPad classroom like my Tap Into Teen Minds paperless classroom, students can use the Apple TV to mirror their iPads for the rest of the class to see as well! As we used Apple TV's mirroring functionality more and more to allow students to share their work and explain their mathematical reasoning, it created what I like to call a modified digital bansho. If you are unsure of what a great learning tool bansho is for your classroom, the Facilitator's Handbook: A Guide to Effective Instruction in Mathematics, Kindergarten to Grade 6 – Teaching and Learning Through Problem Solving defined it well as:
"The bansho process uses a visual display of all student solutions, organized from least to most mathematically rich. This is a process of assessment forlearning and lets students and teachers see the full range of mathematical thinking used to solve the problem. Students have the opportunity to see and hear many approaches, and they are able to consider strategies that connect with the next step in their conceptual understanding of the mathematics."
Mirroring iPad Increases Student Engagement and Involvement
Since I've had iPads in the classroom, student engagement has increased dramatically and I didn't think it could get any better. When I brought Apple TV into my classroom, I instantly witnessed students anxiously awaiting their turn to mirror the screen of their iPads and to explain their understanding. However, Apple TV might face some workability issues though fixable. The most common error can be 'Apple TV Video Not Available', which is either an internet connection or an Apple ID verification problem; it can be tackled easily in the classroom by following few troubleshooting steps.
Constant Math Talk – A Digital Bansho Classroom
With Apple TV, students are constantly sharing their answers while classmates offer constructive criticism to help them bump their answers up to the next level. With students continually sharing answers, we save time "taking up" questions, and have more time to allow multiple students share different approaches to solving the problem. It is like completing a "digital bansho" activity throughout each class in a more digital, time saving manner.
Lazy Teacher or Effective Teacher?
Since I decided to try Apple TV in my math classroom, I have found myself acting more as a mediator rather than an instructor. Students leading the majority of the lesson and I am doing less and less. Students who haven't piped up to answer a question in weeks are starting to come out of their shell to join in the group discussion.
Some might say that my job is easier and I'm getting lazy because of the Apple TV. Others might suggest that the students are gaining much more from this educational platform than they were previously.
A colleague of mine, Dave Bracken, shared some advice his father Ray gave him when he decided to follow in his footsteps and become a teacher. He said: "If you are working harder than the students, then you're doing something wrong."
I think I finally figured out what Ray was talking about…
---
Looking to grab yourself an Apple TV?
WANT TO LEARN HOW TO TEACH THROUGH TASK?
Download our Complete Guide to successfully implementing our Make Math Moments 3-Part Framework in your math class!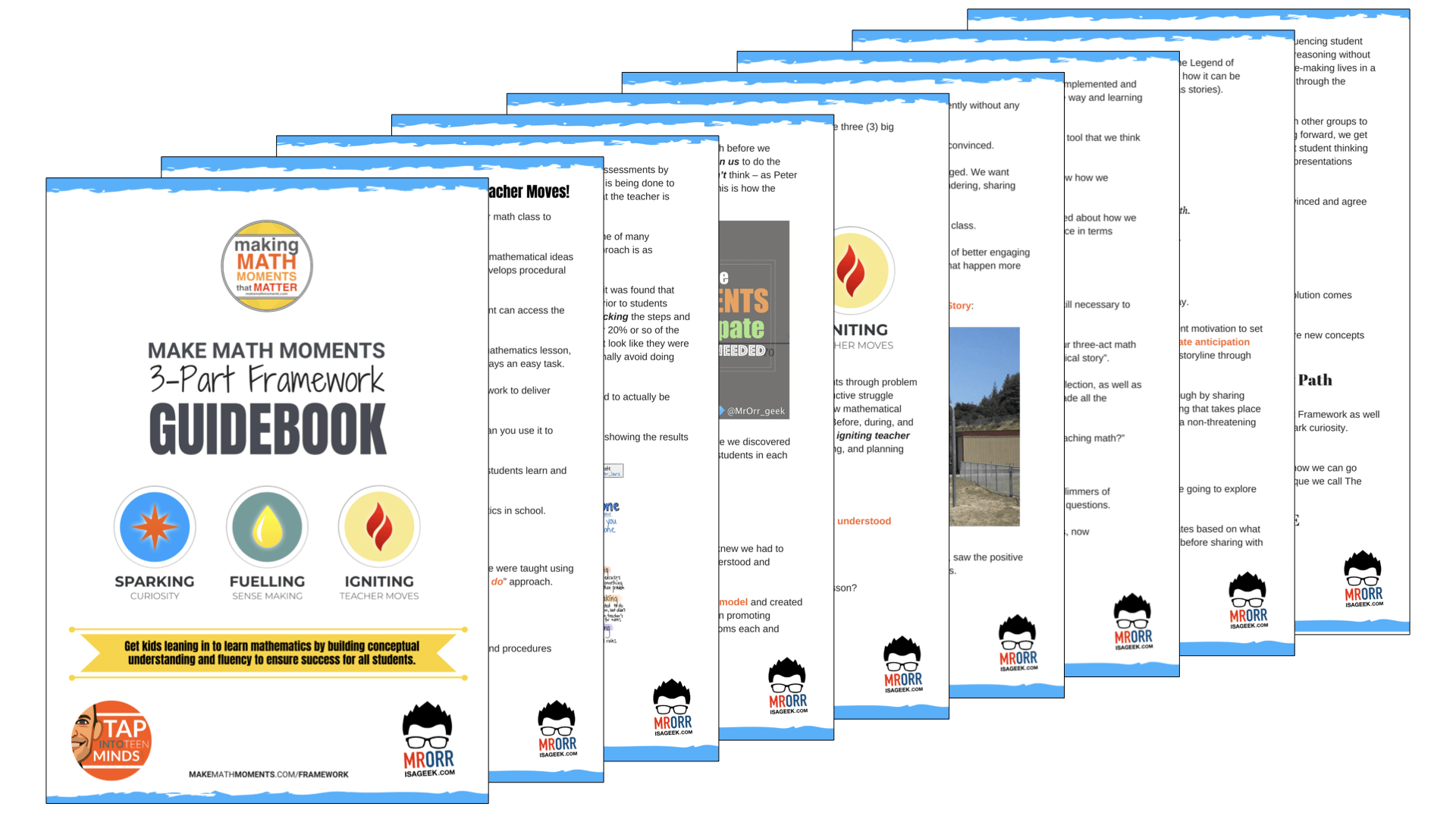 Share With Your Learning Community: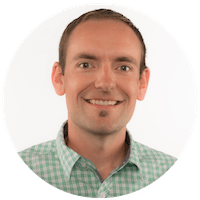 I'm Kyle Pearce and I am a former high school math teacher. I'm now the K-12 Mathematics Consultant with the Greater Essex County District School Board, where I uncover creative ways to spark curiosity and fuel sense making in mathematics. Read more.
Read More From The Blog
---
Not What You're Looking For?
Search By Criteria: