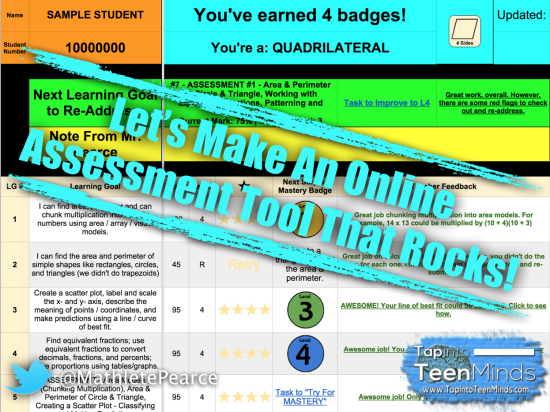 Back in January, with only a few days until semester 2 was set to begin, I was lucky to have come across a post by Jon Orr and a new idea he was going to implement to improve the assessment process in his classroom based on Alice Keeler's original work around Levelling Up and Awarding Badges. I was quickly convinced that what Jon was aiming to do with his Google Sheet Skill Evidence Record could mean a huge step in the right direction for grading my own students.
Over the next couple of days, I had spent some serious time adding new features to the sheet for better tracking, opportunities to leave feedback, links to additional tasks for improvement, and functionality to write report card comments in one spot. These features have not only made my life easier, but have also encouraged my students to take responsibility for their own learning and strive for improvement like I have never seen before. However, Google Sheet and all its functionalities would require a proper internet connection similar to the ones provided by nextlink internet and the likes. Nonetheless, let's get on to the nitty gritty of the online assessment tool.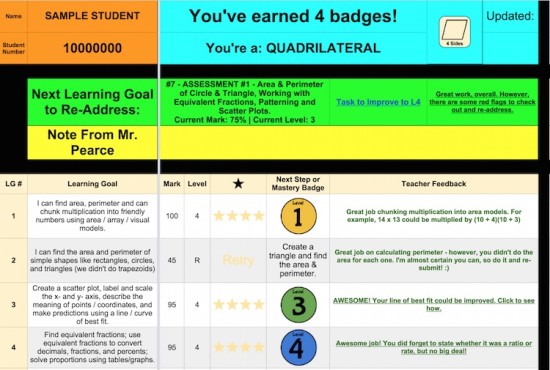 Effective, But Confusing
While our students can see a very detailed list of their progress through the course in an organized fashion, understanding how the formula-heavy Google Sheet works can be tricky. There is absolutely no programming or spreadsheet knowledge necessary to implement this assessment strategy, but the Master Assessment Sheet can be intimidating if you are unsure how it all works behind the scenes.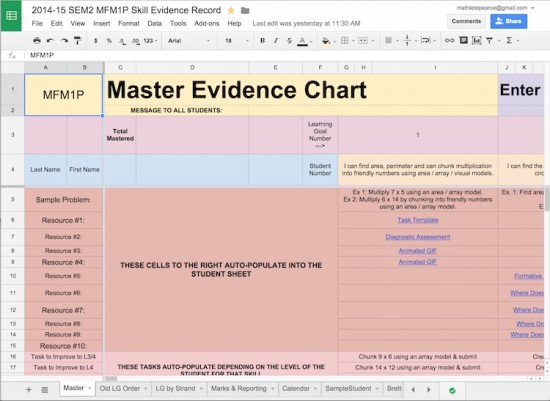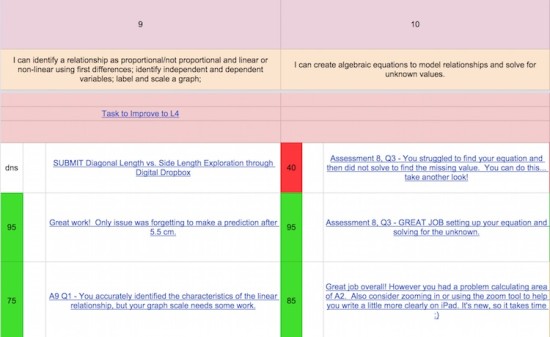 Recently, Jon and I were discussing our experience using the Google Sheet and came to the same conclusions: this assessment strategy has completely changed the way our students are responding in the classroom in a very positive way, however most teachers are overwhelmed when we try to show them how it all works.
Help Us Make The Assessment Tool We ALL Want
Although the hours of planning, researching, and creating this dynamic Google Sheet to transform the way we assess our students has paid off in our own classrooms, we want to stretch this idea to a web-based assessment tool that is accessible for all teachers globally. Similar to social media, we want this system to be accessible to all our students and something they can really get into using. Of course, there are websites that need avoiding, such as the Tree Frog Social scam, but overall we recommend students using social media and online services to both better their education and bring out their personalities.
But we can't do it alone.
We have a system that is more effective and more complete than anything offered by the assessment tools currently offered on the web. And, we want to do it for free. In order to make this happen, we are actively searching for a web programmer that can dream with us as we create a completely unique online assessment tool that teachers and students will love.
This online assessment platform will allow students and parents to login and clearly understand where they are having success and areas where they are not there yet. View an overview of student progress or view your growth over time related to a specific learning goal – it can all be seen with the click of a button. A student wishes to demonstrate their newly acquired understanding of a concept? They can upload their new work from any device to a specific learning goal for organizational ease and an ability to track growth over time.
Teachers will not only be able to track student progress by individual learning goal, assign mastery badges, provide feedback, and differentiated next steps for every student, while also being able to post resources for students and share course material with other teachers in the community.
This is just the beginning of what we believe to be an exciting project to redefine what it means to assess students in the 21st century.
Be sure to fill out our form below if you are a web programmer who is passionate about transforming assessment in education and are willing to embark on this incredible journey with us.
Check out what Jon has to say about this exciting opportunity on his site, Mr. Orr is a Geek!
WANT TO LEARN HOW TO TEACH THROUGH TASK?
Download our Complete Guide to successfully implementing our Make Math Moments 3-Part Framework in your math class!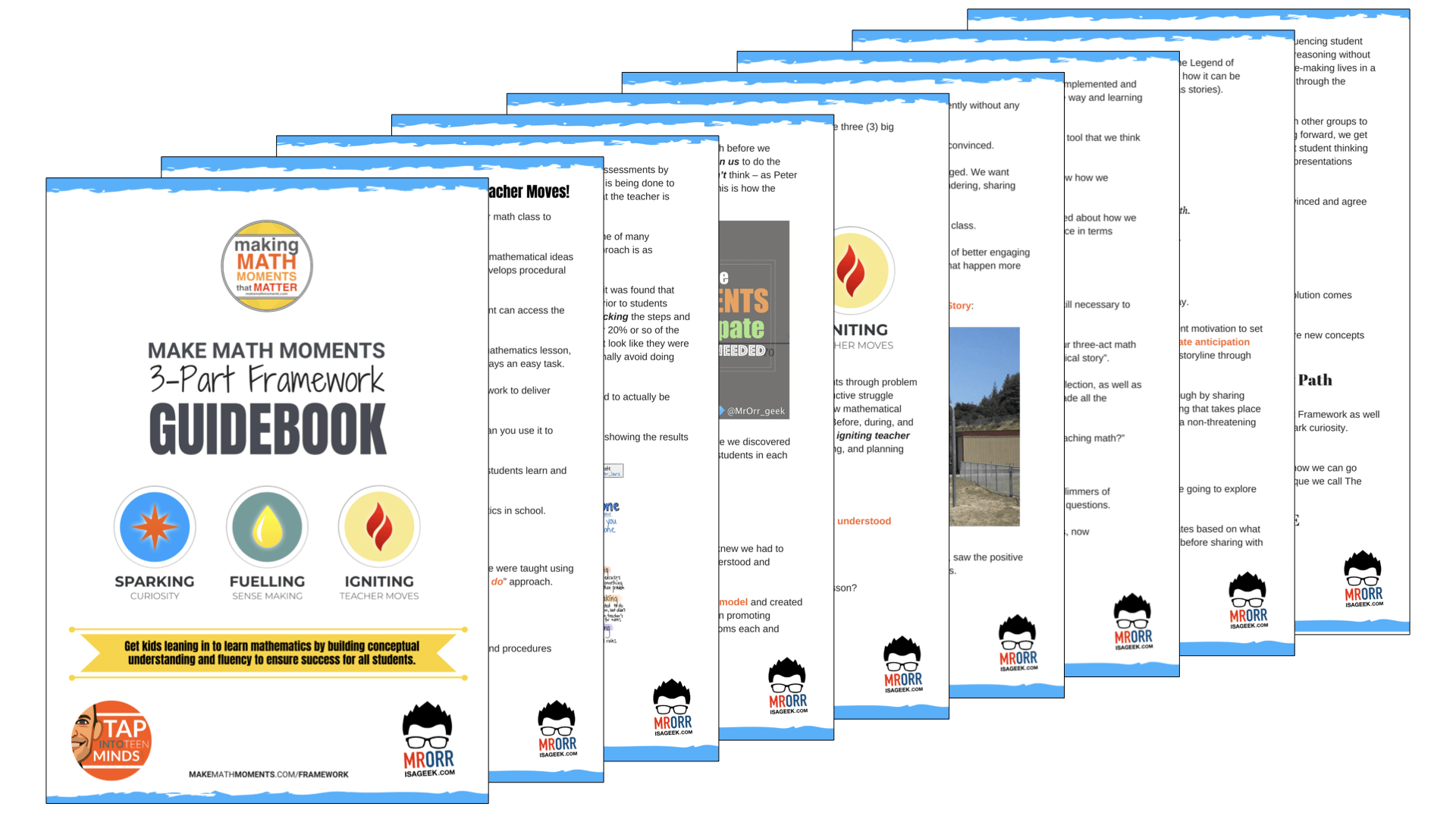 Share With Your Learning Community: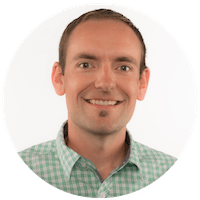 I'm Kyle Pearce and I am a former high school math teacher. I'm now the K-12 Mathematics Consultant with the Greater Essex County District School Board, where I uncover creative ways to spark curiosity and fuel sense making in mathematics. Read more.
Read More From The Blog
---
Not What You're Looking For?
Search By Criteria: