Best iPad for 1-to-1 and 1-to-Many Classrooms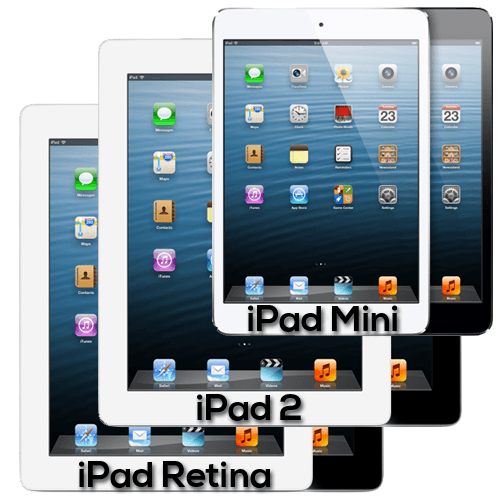 Your school has just received additional funding to purchase technology for the following school year and you've decided that Apple iPad is the way to go. There are a lot of good places to rent from, for example, you could get ipad rentals from Hartford Rents or somewhere similar. However, when you begin to budget the purchase order, you realize that there are many different iPad Generations to choose from including:
iPad (1st Generation)
iPad 2
iPad 3
iPad 4
iPad Mini
While four generations of iPad have been released since April 2010 as well as a new smaller iPad Mini, there are currently only three iPad options to select amongst when cruising to the Apple Store.
---
Breaking Down the Options:
Here is a breakdown:
Which Apple iPad Should We Purchase for Classrooms?

iPad 2

iPad Mini

iPad Retina

Generation:
2nd Generation
4th Generation
4th Generation
Wi-Fi Capacity and Price:
16 GB $399
16 GB $329
32 GB $429
64 GB $529
16 GB $629
32 GB $729
64 GB $829
128 GB $929
Wi-Fi + 3G/Cellular

Wi-Fi + Cellular
Not necessary for classroom

Screen:
No Retina
9.7?inch (diagonal)
1024-by-768 resolution
No retina
7.9?inch (diagonal)
1024-by-768 resolution
Retina
9.7?inch (diagonal)
2048-by-1536 resolution
Processor:
Dual-core A5
Dual-core A5
Dual-core A6X
with quad-core graphics
Cameras:
Front-Facing Camera
VGA-resolution photos
VGA-resolution video

Back-Facing Camera
0.7MP photos

Front-Facing Camera
1.2MP photos
720p HD video

Back-Facing Camera
5MP photos

Front-Facing Camera
1.2MP photos
720p HD video

Back-Facing Camera
5MP photos

Video Recording:
720p HD video recording
1080p HD video recording
1080p HD video recording
Charging Connector:
30-Pin
Lightning
Lightning
Battery Life:

Same Battery Life for All iPad Versions
Up to 10 hours of surfing the web on Wi?Fi, watching video or listening to music.

Siri:
No
Yes
Yes
---
My 1:1 iPad Classroom Setup
Here is a table that gives you an idea of what I have in my classroom and some feedback about each that I use on a daily basis:
My 1:1 iPad Math Classroom Setup
Device
Cost
Quantity
Feedback
iPad 2
$399
30
Using 30 iPad 2 tablets in my classroom for two years, I am completely satisfied with the functionality and do not miss any new features that fourth generation iPads provide.
Apple TV
$99
1
Apple TV is an absolute must for any 1-to-1 or 1-to-many iPad classroom. Completely eliminate the need for a computer or IWB in your classroom. Read more about Apple TV here.
MacBook
$999
1
The MacBook serves as the syncing mothership for the iPads. While I used to use this computer to lead my lesson, I have since replaced it with Apple TV. This MacBook is discontinued. Read more about whether a MacBook or MacBook Pro is necessary for your classroom.
Bretford Powersync Cart
$2499
1
This is our iPad storage, charge and syncing station. The cart is also what I sit my projector and Apple TV on in the centre of the room. Other charging solutions are available for slightly less money, but I am very happy with this cart.
Are you getting ready to deploy a class set of iPads? Be sure to check out my iPad Deployment Guide here.
---
My iPad Purchasing Recommendation
After two years of using iPad 2 in my 1-to-1 iPad math classroom, I see no need for any of the features offered by the latest generation iPad or iPad Mini. Our school recently purchased a class set of iPad Mini devices that offer a better camera for still photos as well as recording video, but it is tough to notice a dramatic difference in quality. Siri is also another feature that seems beneficial for the classroom, but we have not utilized the feature extensively enough to justify influencing a purchasing decision.
A purchase decision can also be influenced by factors such as insurance and warranty period. It would be an added bonus if this period could cover the cost of repairs. There are chances that the screen might crack, or would have a broken glass one fine morning. Therefore, before you buy an iPad, you need to factor in the ipad screen repair cost, and any other costs relevant to this purchase.
In any case, I think the 4th Generation iPad Retina should be eliminated from consideration completely due to a high price point and added features that are not significant to enhance learning in the classroom.
When making your decision between iPad 2 and iPad Mini, consider the following:
When to Purchase iPad Mini over iPad 2
If Your Needs Include:
I Recommend:
Larger screen
Typing with keyboard often
iPad 2, 16 GB
Portability
Higher quality photos/video
Speech to text
iPad Mini, 16 GB
Large amount of storage
iPad Mini, 32 or 64 GB
It should be noted that I find it difficult to believe that there is a need for a class set of iPads with more than 16 GB of storage. My personal iPad that I teach with and record screencast videos on daily has 16 GB of storage and once in a while, I must backup my old videos/photos to my computer if I want to keep them and delete them from the iPad. While there is an outside chance that you may have so many apps that storage becomes an issue, I would assume that there are many apps that you do not use and can be eliminated. If you're not sure how all of this is done, you could get help from any service center (find more information here) near your home to teach you the basics.
What Generation iPad Are You Using in Your Classroom?
Feel free to leave a response in the comment section to help others as they begin to plan what iPads make the most sense for their classroom and student learning needs.
WANT TO LEARN HOW TO TEACH THROUGH TASK?
Download our Complete Guide to successfully implementing our Make Math Moments 3-Part Framework in your math class!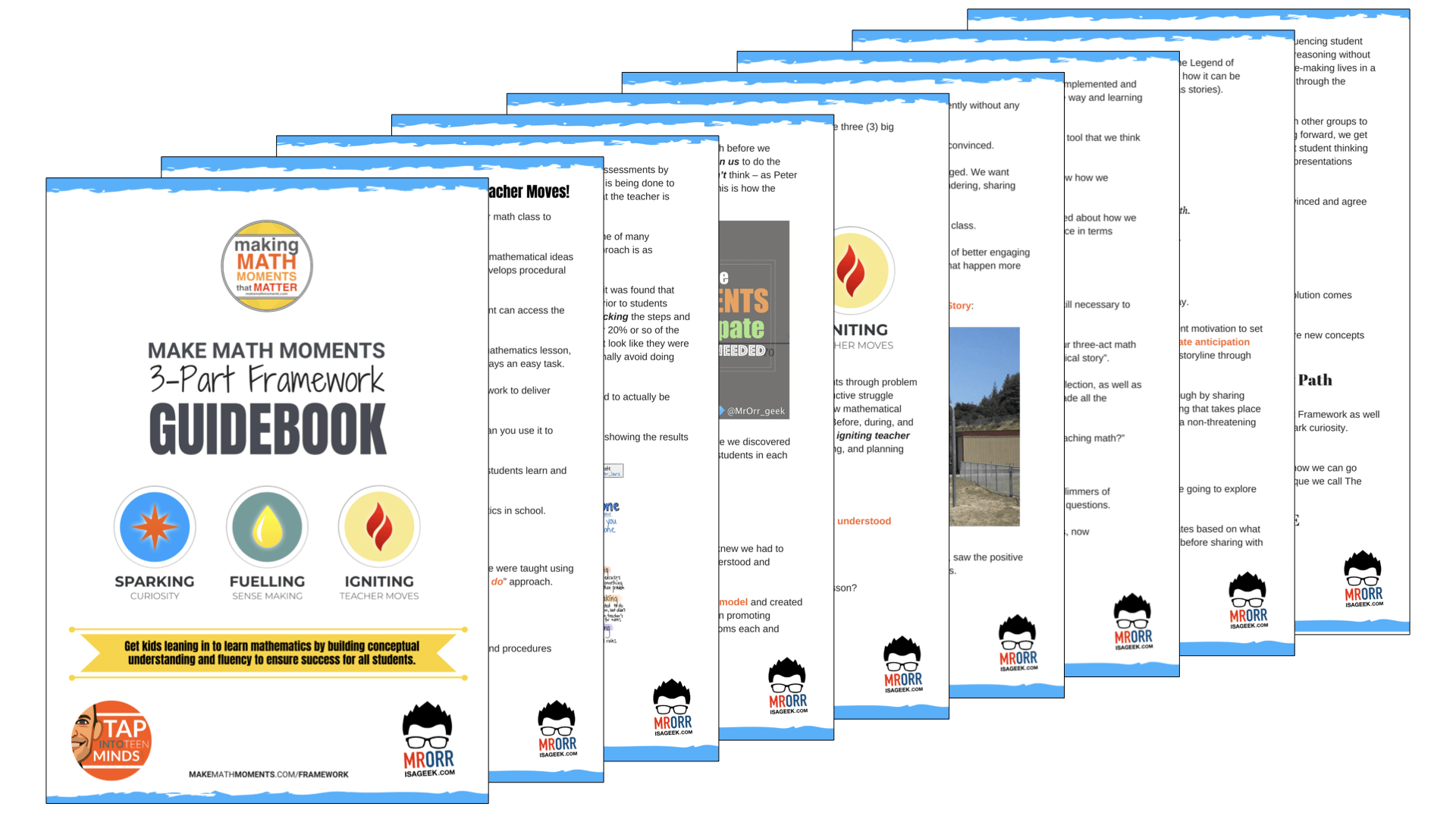 Share With Your Learning Community: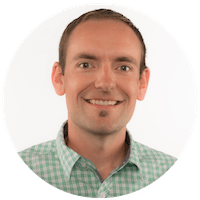 I'm Kyle Pearce and I am a former high school math teacher. I'm now the K-12 Mathematics Consultant with the Greater Essex County District School Board, where I uncover creative ways to spark curiosity and fuel sense making in mathematics. Read more.
Read More From The Blog
---
Not What You're Looking For?
Search By Criteria: