Hello and welcome back to your second Lambton Kent District School Board (LKDSB) Apple Professional Development session for secondary teachers! It is always a pleasure to work with my colleagues from across the province and especially with those who are right next door to my board, the Greater Essex County District School Board!

Recall From Our Last Session

When we last met, we had an opportunity to introduce some of the following apps and iPad uses in your classroom:
---
Presentation & Lesson Delivery
Idea Flight

Idea Flight Enterprise allows for the teacher to "Pilot" the lesson with the students in the classroom as the passengers. At any point, the pilot can turn the seat belt light off so that the passengers can explore the lesson at their own pace. Essentially, the teacher and students can compile a lesson or example together, while students can click the "Attendant" button to notify the teacher that they have a question without feeling embarrassed to raise their hand. Very cool app worth exploring!
---
Assessment & Evaluation with iPad
eClicker Presenter & eClicker Audience

eClicker Presenter by Big Nerd Ranch is a great way to keep your students engaged by turning your iPads, iPhones, Android Tablets and even desktop computers into dynamic classroom clickers. This app is currently $14.99 for eClicker Presenter, but don't worry – only the teacher need purchase the Presenter app. Students in your class can download the FREE eClicker Audience app or the older eClicker Host app.


Educators can create effective multiple choice classroom clicker assessments in a very short period of time. Cropping photos with an app such as Skitch by Evernote will allow you to include graphs, charts and other images with ease. All student data is recorded and can be exported as a Microsoft Excel and other spreadsheet software compatible Comma Separated Value (CSV) file.
---
GoClass Lesson Delivery & Assessment

GoClass is another Classroom Clicker Killer, but with a twist. This FREE app allows teachers to essentially plan their lessons completely within this app and then broadcast the lesson to students during class. The app is organized in three different categories: Show, Explain and Ask. The Show area gives the teacher an opportunity to share a document, photo, video or any other type of resource with students while the Explain area gives the teacher an opportunity to break down the lesson material via summaries or even with a whiteboard that will be displayed on student devices. Finally, there is an Ask section that allows for the teacher to create problems related to the content as a Consolidation to the lesson. Another free app that requires accounts to be created in order to utilize.
---
Evernote for Assessment, Evaluation and Feedback

Many teachers in my board are using Evernote for many different educational purposes on a daily basis in their classrooms. Evernote is a free, cloud-based note taking app for iOS, Android, Mac and PC. Teachers (and students) can create their own Evernote accounts to keep their notes organized in "Notebooks" by subject area, assessment type or any other organizational strategy.
Some teachers are utilizing Evernote as an easy way to organize assessment, evaluation and feedback data for each student. By simply setting up an Evernote Notebook for each student in their course, they can take snapshots of student work, record audio comments and type descriptive feedback for students as they roam their rooms. Best of all, teachers can share their Student Evernote Notebooks with each student and even parents to keep the lines of communication open between all stakeholders.
---
Great Math Apps
DragonBox Algebra 12+ Released Last Week!
Aimed for Ages 12+ but enjoyed by all!

DragonBox Algebra 12+ is a must-have tool for students so they can gain confidence in algebra and mathematics. Based on the award winning game DragonBox Algebra 5+, this new version covers more advanced topics in mathematics and algebra:
Parenthesis / Brackets
Positive and Negative Signs
Addition of Fractions (Common Denominators)
Collection of Like Terms
Factorization
Substitution
---
MyScript Calculator
Write On Your Calculator!
With MyScript Calculator, students can perform mathematical operations naturally using handwriting. This app is easy, simple and intuitive, just write the mathematical expression on the screen then let MyScript Calculator perform its magic converting symbols and numbers to digital text and delivering the result immediately.
---
FluidMath 2013
Bring Your Handwritten Math to Life!
Bring your handwritten math to life with FluidMath! FluidMath 2013 is the first handwriting-based educational math app designed for teachers and students in grades 6-12 and applicable to pre-algebra through calculus courses!
Students can easily create, solve, and graph math and physics problems all in their own handwriting! Teachers can use this app as another way to create dynamic instructional material for the classroom and to enable clearer presentation of concepts. The ultimate graphing calculator!
---
Motion Math HD – Fractions!
Put the Action in Fractions!
Motion Math HD follows a star that has fallen from space, and must bounce back up, up, up to its home in the stars. Moving fractions to their correct place on the number line is the only way to return. A rigorous, published experiment showed that by playing Motion Math HD for a week, learners improved by 15% on average in their ability to estimate fractions and their attitudes toward math. Learn more in the Motion Math Study.
---
ScreenCasting and Recording Video for Communication
Explain Everything Screen Capture App

Explain Everything is an iPad video app that allows you to create screencast videos on your iPad. Although it can be a useful app in many fields, I find it especially useful in the classroom. The app is setup in a manner similar to a presentation application like PowerPoint or Keynote, since your content is organized in slides. The benefit being that you can record each slide individually, instead of creating a video in one take like many of the other iPad video apps currently available.
---
Use Doceri to Record Your Lessons for YouTube

Similar to Explain Everything, Doceri is a free whiteboard screencast app that allows you to quickly record videos in your classroom on the fly while you teach! Why not record that homework question students wanted to go through at the beginning of class for posting to your course website later? I've been recording at least one video a day for the past week and both the students and I love it!
Check Out This Video Recorded With Doceri on iPad 2
---
Knowmia Teach Lesson Creator – Free Screencasting


Knowmia Teach Lesson Creator is another screencast app that is comparable to others, but it caught my eye because it was FREE and had a couple unique features. The app is designed to target teachers interested in creating lesson videos or "Flipped Classroom Videos" because the app will actually use the front iPad camera to record your face as you create the video. It should be noted that the app does require you to create an account to upload your finished video to their website much like Educreations. Although I'm not a fan of having to create accounts as well as being limited to how you share the final product, I still think this app is definitely worth a look!
---
Create Real World Math Problems

Recently, I led a session for secondary math teachers in the Greater Essex County District School Board about Creating Real World Math Problems. Using the approach made famous by Dan Meyer and his Three Act Math Tasks, I have been striving to create Real World Math Problems using the iPad Video Camera and a few edits in iMovie on a Mac. The same edits could be completed directly on the iPad and I'd encourage you to try it out in your own classroom!
---
Allow Students to Collaborate Digitally in Baiboard

Baiboard is a free collaboration app designed for education. The teacher or students can create their own Baiboard rooms and share the room number with peers to collaborate during class time or at home. The app provides 4 different pieces of digital chart paper that the students can write on, import pictures and save for future reference.
---
Book Creator for iPad

Book Creator for iPad is the simple way to create your own beautiful iBooks, right on the iPad. Read them in iBooks, send them to your friends, or submit them to the iBookstore. Ideal for children's picture books, photo books, art books, cook books, manuals, textbooks, and the list goes on.
---
Other Tap Into Teen Minds Suggested iPad Educational Apps
I hope you enjoyed the session and would appreciate any comments, questions or improvements that could be made for sessions I will deliver in the future!
Memorization vs. Automaticity
What's The Difference?
Find out by downloading the 5-Page Printable Memorization vs. Automaticity Cheat Sheet to learn more! A ton of great learning to be had with this printable & sharable E-Book!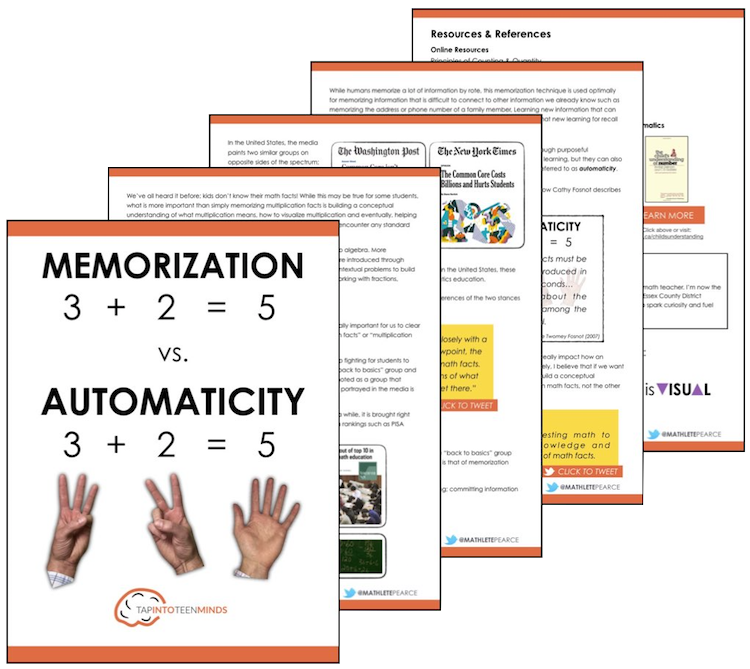 Share With Your Learning Community: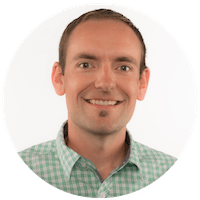 I'm Kyle Pearce and I am a former high school math teacher. I'm now the K-12 Mathematics Consultant with the Greater Essex County District School Board, where I uncover creative ways to spark curiosity and fuel sense making in mathematics. Read more.
Read More From The Blog
---
Not What You're Looking For?
Search By Criteria: