MDM4U Grade 12 Data Management Math Course Description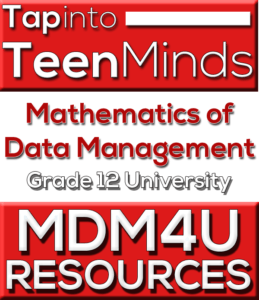 This course broadens students' understanding of mathematics as it relates to managing data. Students will apply methods for organizing and analysing large amounts of information; solve problems involving probability and statistics; and carry out a culminating investigation that integrates statistical concepts and skills. Students will also refine their use of the mathematical processes necessary for success in senior mathematics. Students planning to enter university programs in business, the social sciences, and the humanities will find this course of particular interest.
Prerequisite: Functions, Grade 11, University Preparation, or Functions and Applications, Grade 11, University/College Preparation
I often receive emails from teachers across Ontario looking for some resources for the Grade 12 MDM4U Data Management course. I always loved teaching this course, but haven't had the opportunity in the past few years. Take what you'd like from here. If it helps you along the way, I'd love to hear from you in the comments section at the bottom of the page.
It should also be noted that I have undergone a complete transformation in how I believe mathematics should be taught and learned and thus how I delivered math lessons a decade ago is completely different than how I teach now. Learn more about transforming your math lessons from rushing to procedures to problem based math lessons here.
---
---
---
---