Add Your Real World Math Problems to Our Directory!
Are you a mathlete constantly working hard to create Real World Math Problems in the style of Dan Meyer's 3 Acts of a Mathematical Story?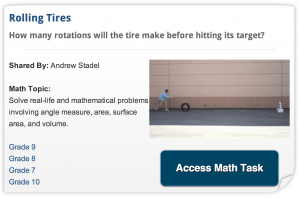 Share your hard work with the world by submitting your 3 Acts Real World Math Task using the easy submission form below.

Once your submitted task is reviewed (sorry spammers), it will appear in the directory like the example to the right.
---
Submit 3 Acts Real World Math Tasks Below:
---
Search for 3 Acts Real World Math Tasks Below:
Aligned With the Ontario Math Curriculum
---

Please note that all submitted 3 Acts Real World Math Tasks will be reviewed for relevancy before becoming public.
Adding as much detail to your task will assist in processing time and ensure that I can get your task published with aligned expectations/standards for as many countries/provinces/states as possible.
Feel free to contact me with any questions you may have with the submission process.
Looking forward to checking out your tasks!