Greater Essex County District School Board – MYCI in Mathematics
The GECDSB is proud to continue the Middle Years Collaborative Inquiry (MYCI) Project. This professional learning community is focused on improving student success in middle years math, specifically from grade 7 to 10. The 2015-16 school year will welcome fourteen new schools to the project, while welcoming back nine schools to continue their classroom inquiries. Our project is currently serving 62 grade 7 and 8 teachers, 10 secondary teachers, and 22 administrators. We look forward to a great year of learning with you all!
Jump to Exit Survey
---
Session #2 Action Items
Here are a couple action items from MYCI Session #2:
Revisit your urgent student learning need, refine/solidify your inquiry question and plan your next "if… then…" statement for your theory of action.
If you wish to take advantage of the optional OAME 2016 professional development opportunity, express your interest here.
---
2015-16 MYCI Session #2 Slide Deck
Grab the slide deck in PDF form for safe keeping in iBooks or in GoodNotes 4 (or similar) for annotating on your iPad.
---
Collaborative Inquiry Planning Resources
MYCI Planning Template
Download the Planning Template by clicking on the image below. It is suggested that the template be opened in GoodNotes to allow you to add text boxes and/or annotate over the document.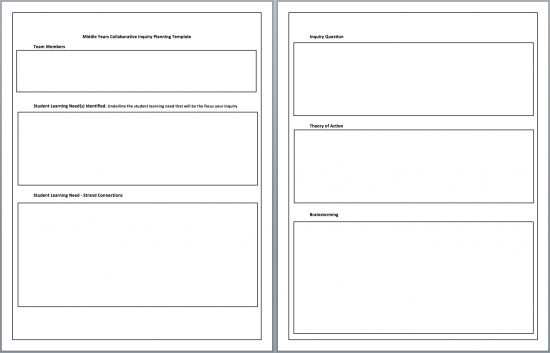 ---
Tasks We Explored:
[threeactshortcode the_query="post_type=realworldmath&p=16776″]
[threeactshortcode the_query="post_type=realworldmath&p=16153″]
Related Posts:
[postshortcode the_query="p=16947″]
[postshortcode the_query="p=16235″]
Resources Explored:
---
2015-16 MYCI Session #2 Exit Survey
---