Greater Essex County District School Board
Recent Resources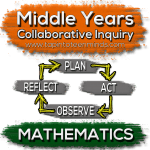 Welcome to the Middle Years Collaborative Inquiry (MYCI) Project for Intermediate Mathematics at the Greater Essex County District School Board. We are happy to be back for a 4th year of learning together!
Session Format and Schedule
We will be introducing a Family of Schools Plenary Session Format, where teachers can collaborate across their school division and across other neighbouring schools to address urgent student learning needs in the mathematics classroom.
First year schools will participate in four (4) full-day sessions, while year 2 and 3 schools will participate in two (2) full-day sessions and two (2) half-day sessions throughout the 2014-15 school year.
Click On Your Family of Schools to Access Dates and Resources:
Looking to Book MYCI Release Time, Team-Teaching, or Resource Planning?
Contact Kyle Pearce on Office 365 to set up a date and time that works best!
Please note that I teach period 1, from 8:15AM until 9:35AM. I can be available anytime after that, given travel time from Tecumseh Vista Academy is considered.
Middle Years Collaborative Inquiry (MYCI) Related Resources