Using Linear Relations and Proportional Reasoning to Model Water Flow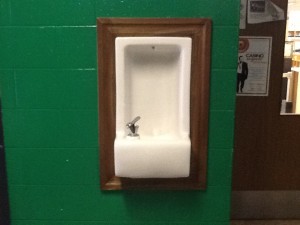 The following lesson resource material provides Real World Math Problems that were created by the mathematics department at Herman Secondary School from the Greater Essex County District School Board. I had the pleasure of working with Mr. Fabris, Mrs. Austen, Mr. Loebach and Mr. Marusic to create their first Real World Problem or 3 Act Math Task as Dan Meyer would call it. What a success! We will be getting together in a couple weeks to decide on some learning goals, suggested prompts, and other useful information to go along with these videos and photos. The goal here is to allow their classes to begin thinking about how long it would take to get their Recommended 8 Cups of Water Each Day from the Herman Secondary School Water Fountain. Use as you see fit in your classroom!

---
Minds On:
Watch the Video Below:

Question that will likely come up through class discussion:
How fast is the water flowing from the fountain?
---
Action: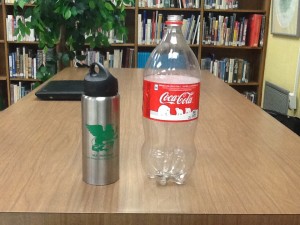 Another question to explore:
How many Herman Griffins Water Bottles will it take to fill a 2L Bottle of Coca-Cola?
Consolidation: