Sorry for the late notice, but if you're from the Upper Grand District School Board, come on by to say "hi" at the secondary mathematics iPad session… Looking forward to delivering my first Apple Learning Tour session!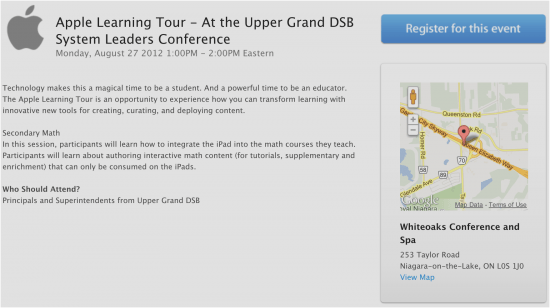 Apple Learning Tour Session Descriptor:
At the Upper Grand DSB System Leaders Conference
Monday, August 27 2012 1:00PM – 2:00PM Eastern
Technology makes this a magical time to be a student. And a powerful time to be an educator. The Apple Learning Tour is an opportunity to experience how you can transform learning with innovative new tools for creating, curating, and deploying content.
Secondary Math
In this session, participants will learn how to integrate the iPad into the math courses they teach.
Participants will learn about authoring interactive math content (for tutorials, supplementary and enrichment) that can only be consumed on the iPads.
Who Should Attend?
Principals and Superintendents from Upper Grand DSB
---
Hopefully you can make it out! If you do, be sure to stop and say "hi!"